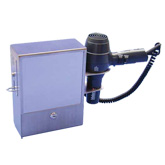 (PRWEB UK) 3 September 2012
To make a lasting impression, Prestige Washrooms, a renowned online store, is introducing a new range of products for commercial washrooms. These products help enhance the appearance of washrooms look stylish and sophisticated, with modern amenities and comfort.The washrooms are really an integral aspect that has a lot of impact on the image of an organization. Believe it not, it speaks a lot of about the taste of the organization, and how they do business. Offering a diverse range of styles, materials, colours, and systems, it is aimed to make the washrooms fit appropriately with the image of the organization.
Commercial Washrooms are the primary target for Prestige Washrooms, and that is apparent from what the Executive Media Manager of Prestige Washrooms has to say about their range of products. He alleged "We are offering a completely new age range of products, which are especially designed for commercial washrooms. We understand that these washrooms are special, since the items exhibited are not merely necessities, but also portrays the taste and class of the organization to create an everlasting impression. And we ensure that with the stylish items we produce." It is anticipated that by targeting a completely new set of audience, Prestige Washrooms can appeal best to commercial interior designers.
Prestige Washrooms has always presented the customers with the best quality items, which are modern and beautiful. Their washroom dispensers and other products can be undoubtedly trusted for their highest quality standards. Built with quality materials, employing the latest technology and team of skilled professionals, the company delivers products that are exceptionally durable and stylish. This has helped Prestige Washrooms create a reputation and worthiness to be one of the best manufacturers of washroom items for commercial properties. That way, every commercial organization owner and interior designers are ensured that they have the best resources for their washroom decor needs.
With organization image becoming immensely important in the challenging world today, use of these items has increased in the last few years. The director of a renowned IT company has said recently in the press, "We are redecorating our office building, with modern equipments, and Prestige Washrooms has made it easier for us. Their washroom items have made our washrooms really beautiful, and a lot of people appreciate the way new washrooms look." The architect cum decorator of the same company said in the same press conference about how the commercial soap dispensers have helped him to be more creative with the decoration of the washrooms, while ensuring cleanliness and good health.
For more information about different commercial washroom items offered by Prestige Washrooms, visit http://www.prestigewashrooms.co.uk/.
About the Company
Prestige Washrooms Ltd. is one of the most eminent companies, offering an exclusive range of high quality products for residential and commercial washrooms. Offering highest quality standards and competitive pricing, they are often an enviable choice for home and commercial washroom interior designing.