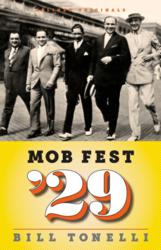 San Francisco, CA (PRWEB) September 02, 2012
Just in time for the season premiere of the hit HBO show Boardwalk Empire, Bill Tonelli arrives on the scene with his brilliantly subversive Byliner Original Mob Fest '29: The True Story Behind the Birth of Organized Crime. Tonelli investigates the long-standing myth of the mob's founding—a legendary week in May 1929 in which a who's who of American crime (Al Capone, Lucky Luciano, Meyer Lansky, and Frank Costello, among many others) were said to have assembled in Atlantic City, the hedonistic Playground of America, to make peace and divvy up the country's illegal enterprises.
But what really happened that criminally star-studded week on the Jersey Shore? At this informal summit, mobster bosses allegedly gathered to invent the concept of "organized crime" in America. Prohibition had transformed all of them from two-bit thugs into underworld bigwigs, and they had a vested interest in keeping illicit booze flowing easily across state lines. In Atlantic City, these hoods played as hard as they worked—if indeed they worked at all. "As legend has it," writes Tonelli, "as many as thirty top gangsters [enjoyed] wild parties and heroic feasts, with fancy ladies provided for any who hadn't brought his own. In short, this was nothing like the office meetings you and I have been made to attend."
How many of these accounts are actually true, and why do they vary wildly in their retelling? Did the mobsters really wheel around the Boardwalk in rolling chairs, smoking cigars and cutting deals? Did they threaten one another in swank conference rooms in the Ritz-Carlton? Did they force Al Capone, fresh from the St. Valentine's Day Massacre in Chicago, to turn himself in to the cops in order to take the heat off everyone else? And what about the infamous photo of Nucky Johnson—"the benevolent but undisputed king" of Atlantic City, better known as Nucky Thompson on Boardwalk Empire—strolling the boards arm in arm with Capone? Was this a staged shoot caught by early paparazzi or a Prohibition-era Photoshop job designed to ignite conspiracy theories that would thrive for years to come?
At a time when the early mob days are all the rage, Tonelli sifts the facts from the malarkey and in so doing shows that when it comes to the birth of organized crime, a good lie is hard to beat.
ABOUT THE AUTHOR:
Bill Tonelli has written about the mob for the New York Times, Slate, and Philadelphia magazine. He is the author of The Amazing Story of the Tonelli Family in America and editor of The Italian American Reader and was an editor at Esquire, Rolling Stone, and Condé Nast Portfolio.
ABOUT BYLINER:
Byliner publishes compelling works of original fiction and nonfiction written to be read in a single sitting. Among its bestselling titles are Amy Tan's Rules for Virgins, Ann Patchett's The Getaway Car, Jon Krakauer's Three Cups of Deceit, Elizabeth Kaye's Lifeboat No. 8, and Nick Hornby's Everyone's Reading Bastard. The companion website, Byliner.com, features curated archives of great fiction and nonfiction writing and allows readers to easily find, share, and buy new and classic stories by their favorite authors.
MOB FEST '29:
The True Story Behind the Birth of Organized Crime is available for $1.99 as a Kindle Single at Amazon, a Quick Read at Apple's iBookstore, a Nook Snap at BarnesAndNoble.com, a Short Read at Kobo, and at Google Play.
For an Advance Reading Copy or to schedule an interview with Bill Tonelli, please contact Megan Fishmann at megan(at)byliner(dot)com; 415-289-7887.