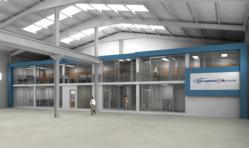 We are very pleased to announce the establishment of OceanWorks Aykor. This is not only an expansion in size for OceanWorks, but also a growth in our industry capability
Istanbul, Turkey (PRWEB) September 05, 2012
OceanWorks Aykor is a joint stock company established in Turkey by two organizations, OceanWorks International Corporation, and Aykor A.S. who has been OceanWorks International's representative in Turkey since 1998 and a provider of complex systems to international military customers.
OceanWorks Aykor will focus on the design and manufacture of technologies, systems and products for Subsea and Marine Engineering applications. These applications are to include ship systems related to submarine rescue,diving systems including hyperbaric chambers and related systems, as well as custom designed and built solutions to meet customer requirements. OceanWorks Aykor is fully committed to developing a proven supply chain and design capability in Turkey.
The construction of the OceanWorks Aykor facility is currently underway in the Desbas Free Trade Zone near Tuzla, Istanbul with a target completion date of October 1st 2012. The facility operational area will include 4670 square feet of office space and 7748 square feet of manufacturing and shop space.
"We are very pleased to announce the establishment of OceanWorks Aykor. This is not only an expansion in size for OceanWorks, but also a growth in our industry capability" said Mr. Rod Stanley, CEO of OceanWorks International. "The OceanWorks Aykor location in Turkey will also allow us to offer wide range of products, and increase our ability to support our global customer base".
OceanWorks International is an internationally recognized subsea technology company specializing in the design and manufacture of manned / unmanned subsea systems and specialized equipment for military, oil and gas, scientific, and other marine markets. Offering a full range of subsea system engineering, design and analysis, fabrication, testing, and project management services, OceanWorks has been at the cutting edge of deep submergence and diving technology, operations, and support for over 20 years.
Media contact: Julia Ren, Marketing Communications Coordinator
Tel: 1-604-415-0088 – 260 Email: marketing@oceanworks.com
To contact OceanWorks Aykor: Billy McKeown - Tel: +90-216-999-4600
To contact Houston Sales: Scott Allen - Tel: 1-281-598-3940
To contact Burnaby Sales: Keith La Rose - Tel: 1-604-415-0088