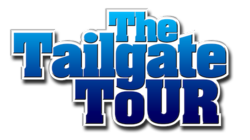 "The most unique aspect of The Tailgate Tour is that we provide our partners and fans a 360 approach to celebrating the pageantry of College Sports
Los Angeles, CA (PRWEB) September 01, 2012
Kicking off this Labor Day weekend in Dallas, TX, NFuse 360 Marketing will launch The Tailgate Tour, (The longest running and largest traveling fan experience in college sports) hosting a powerful mix of consumer and media brands. The Tailgate Tour is a 14-week traveling mobile tour that visits the largest college football match ups and significant rivalries in the nation with focus on providing fans an exciting pre-game interactive experience. Over the last 13 years, the tour has reached over 22 million fans at events and many more across its media partners and social channels.
To further enhance the game day experience, sponsoring partners Fox Sports Radio, Sirius XM, Everyday with Rachael Ray Magazine, Panasonic, BIC Flame Disk, Reser's Fine foods and Honda Generators to name a few will be out entertaining fans with a robust pre-game series of engaging activations. This year, the tour is very focused on convergence and will have a series of displays focused on driving consumers online at its host of destinations including Facebook, Twitter, Pinterest and YouTube. Sports fans will be given the chance to interact electronically by sharing Instagrams, chats, texts (through an SMS campaign), on site blogging, tweets video and still photography.
"We are thrilled to be bringing this program back to such a enthusiastic audience" says Jay Freedman, NFuse's Managing Partner. "This program continues to get bigger and better each year and allows us to showcase how our partners embrace weekend tailgaters and sports fans around the nation. With our new digital technology onsite, we are excited to share more of the pre-game experience to fans who are not at the event and allowing others to share in the moment".
New media partner to the tour is Everyday with Rachael Ray Magazine. The highly popular magazine brand will offer tailgaters a collection of grid iron-worthy recipes for the best game-day burgers, drinks and deserts from Rachael Ray, the popular chef, television and media personality.
Tour dates include:
9/1 – Michigan v Alabama, Dallas, Texas
9/8 – New Mexico @ University of Texas, Austin
9/15 – Texas @ Ole Miss, Oxford, MS
9/22 – Missouri @ South Carolina, Columbia, SC
9/29 – Tennessee @ Georgia, Athens, GA
10/6 – Illinois @ Wisconsin, Madison, WI
10/13 – Kentucky @ Arkansas, Fayetteville, AR
10/20 – Kansas @ Oklahoma, Norman, OK
10/27 – Florida v Georgia, Jacksonville, FL
11/3 – Alabama @ LSU (Rematch of National Championship Game)
11/10 – Georgia @ Auburn, Auburn, AL
11/17 – Minnesota @ Nebraska
11/24 – Michigan @ Ohio State, Columbus, OH
12/1 – Pending outcome of Pac
Complete details on all dates and activities related to the tour are being showcased at http://www.tailgatetour.com and on Facebook (http://www.facebook.com/thetailgatetour). Local partners on The Tailgate Tour include a long list of local radio stations, online and newspapers
NFuse 360 Marketing is based in Deerfield Beach, Florida and Los Angeles. NFuse 360 Marketing is a strategic integrated Marketing, Promotion and Events company that directs an array of custom marketing programs for Radio, TV and Brands. NFuse 360 builds hundreds of custom programs a year that are structured on providing 360 degrees solutions for its clients. http://www.nfusemarketing.com & http://www.nfuse360.com
More Details: Paul Jurmain – pjurmain(at)nfusemarketing(dot)com