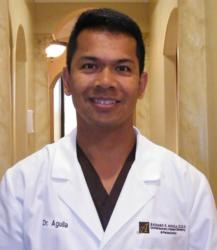 Jacksonville, FL (PRWEB) September 02, 2012
Richard E. Aguila, D.D.S. of Contemporary Implant Dentistry & Periodontics provides patients with a number of tooth replacement options including dental implants. By the age of 74, over 1/4 of U.S. adults have lost all of their permanent teeth, and nearly 70 percent of adults ages 35 to 44 have at least one missing tooth. Teeth can be lost due to decay, gum disease or even injury. When teeth go missing, bone loss begins, but implants can stimulate the jawbone. When compared to the cost of missing teeth and bone loss, dental implant cost can be very affordable.
Dental implants are made of titanium, which is able to fuse with the natural bone through osseointegration. This stimulates the jawbone so that bone loss does not continue. The titanium is decay-resistant and durable. Many implants that were surgically placed more than twenty years ago are still viable and function just like natural teeth.
Dental implants consist of three main parts: the actual implant that is placed in the jawbone through surgery; the abutment, which fits over the exposed part of the implant; and the actual crown, which is placed over the abutment. The crown is usually designed to match the remaining natural teeth in color so that most people cannot tell the difference.
Dr. Augila has a 3D cone beam technology called Sirona Galiloes Cone Beam CT scanner. This is used to provide him with better visualization of anatomic structures, and guides him through dental implant surgery. This makes his installation of dental implants unique.
Dr. Aguila successfully uses implants in patients who have lost teeth for whatever reason. Of course, implants may not work for every patient, so individual consultations are necessary to determine whether a patient is a good candidate. To learn more about the procedure used for installing implants and the dental implant cost, visit http://www.laseranddentalimplants.com.
Richard E. Aguila, D.D.S is a periodontist providing patients with personalized dental care for Jacksonville, FL since 2010. Dr. Aguila received his Bachelors of Arts degree in Chemistry and Doctor of Dental Surgery from West Virginia University. He completed a hospital-based General Practice Residency at the Naval Medical Center San Diego. He practiced general dentistry in the Navy for six years before pursuing his specialty training in periodontics and dental implant surgery at the Medical University of South Carolina. During this time he obtained his Certificate in Periodontics and Masters in Health Sciences with honors. Dr. Aguila has been practicing periodontics and dental implant surgery exclusively since 2001. He is part of one percent of dental professionals providing the most recent FDA cleared laser procedure for gum disease and periodontal treatment. To learn more about Richard E. Aguila, D.D.S and his dental services visit his website at http://www.laseranddentalimplants.com and call (904) 638-7980.