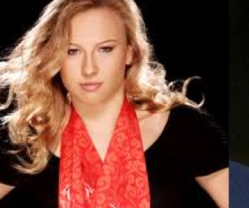 Gold Medal Winner Jessica Long is an inspiration, and easy on the eyes!

Shari Rock, Editor, Dirt.com
(PRWEB) September 03, 2012
Dirt.com announces the results of its most recent vote on the Sexiest Paralympic Gold Medal Athlete in 2012
Dirt.com, a worldwide Leader in Celebrity Gossip, Music and Entertainment News, Celebrity Scandals, Hollywood Rumors, and Personal Dirt with its new DirtBlurb has named US Paralympics gold swimmer Jessica Long the Sexiest Paralympic Gold Meda; Olympic Athlete of 2102. Dirt.com today announced the results of its newest vote, "Who is The Sexiest Gold Medal Athlete of the 2012 Paralympic Games thus far," and the results may have you watching a lot of US Olympic swimming over the next couple of weeks.
Jessica Long swam what will likely go down as the most dominant performance in the 2012 Paralympic swimming competition, destroying the field in the 400 free to win by 25 meters with a new world record time of 4:42.28.
In the vote, Jessica Long walked away with the title of Sexiest Paralympic Olympic Gold Medal Athlete of the 2012 Olympics thus far beating out gold medal competition from Australian Gold Medal Winner Jacqueline Freneyand and Andre Brasil from Brasil.
Shari Rock, Dirt's spokesperson says, "The Paralympic Games are proving to all that not only are the athletes inspirational, amazing, and incredible, but many are amazing beauties as well. All the competitors are truly awe-inspiring."
ABOUT Dirt.com:
Dirt.com has already been read by people in 178 Countries and brings a new approach to the entertainment landscape by not only publishing original editorial content whereby readers and writers co-exist by making the site their preferred platform for sharing opinions on News, Gossip and Entertainment, but also providing all the world's celebrity gossip in real time. Dirt.com is rapidly becoming a leading worldwide entertainment media brand, covers 30,000 celebrities, and has access to the world's largest database of celebrity photos. Team Dirt's polls have become a must read for Hollywood insiders even though the polls are not scientific and for entertainment purposes only. Dirt.com has been called the Drudge Report of the celebrity gossip space, and provides all the world's celebrity gossip to its visitors in 5- minutes or less with its DigDirt technology. Dirt.com's newly released DirtBlurb also offers real time information about people, places and things, and empowers people's decision making through information and online intelligence. The company's guiding mission is to become the leading provider of digital entertainment and online intelligence services. The Dirt.com DirtBlurb search platform, recently introduced in Beta, places the power of information in the hands of the consumer. The platform is committed to helping every individual use the internet to empower themselves to be able to make informed, intelligent decisions regarding their live, the people they know, and the world around them. Dirt.com is lead by Founder and CEO Andy Jacob, and a team of experienced and successful entrepreneurs, technology gurus, and inline visionaries who believe in the power of entertainment, the power of information and power of the people. The Dirt.com team is committed and passionate about making its DirtBlurb the most widely recognized and trafficked people dirt engine on the Internet today .To learn more about the DirtBlurb, visit Dirt.com