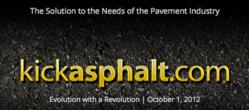 Imagine the frustrations of spending a ton of money on a parking lot and having only to rely on the 3 different contractors who all say 3 different things; give owners a place to get relevant info today!
Charlotte, NC (PRWEB) September 06, 2012
Kick Asphalt® is an Association for the Pavement Maintenance & Construction Industry that is launching October 1, 2012.
Kick Asphalt® Evolved from the Frustrations of Pavement Contractors, Their Employees & Property Owners/Managers of not having a resource in the industry based on their needs where all can learn, develop and share. Join Now.
There are many opinions, confusion and frustrations from the property owner as well as the contractors as to what they should do to spend the least amount of money for the long term in maintaining parking lots & athletic surfaces.
KickAsphalt® is an Association for the pavement maintenance & construction industry as well as a source for all of the buyers of pavement services (the property owners/managers) throughout North America. It will be segmented based on your immediate needs today. New companies, adolescent, mature and veteran firms all have different needs, issues and frustrations. Kick Asphalt has created a place for each of these groups so the information, conversations and needs are relevant specifically for each segmented group.
Members preserve, protect, repair, build and design parking lots, athletic surfaces & driveways for residential and commercial customers. KickAsphalt® provides education, public relations, and representation services to members in a simple, relevant manner that will connect directly with the needs & wants of the following groups:

Field Employees
Owners/Executives/Managers
Property Managers/Owners
KickAsphalt® gives members a strategic advantage in the marketplace and enables them to operate more effectively and provide the public with quality pavement maintenance & construction services and related products today, tomorrow and in the future.
Join Today to experience this Evolution with a Revolution in the Pavement Industry!