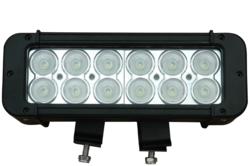 "With the introduction of this new color output LED light bar, a wide variety of applications can be served in many different industries. Green LED lights are very effective for bird control on industrial buildings, saving operators a lot on money in repa
Kemp, TX (PRWEB) September 04, 2012
The LEDP3W-12X2C color LED light is designed to withstand moisture and dust intrusion, and is housed in a rugged, compact enclosure that makes the device suitable for use in the harshest of conditions. Available with green, red, amber and blue LED light output, this low voltage LED draws only 3 amps on a 12 volt circuit. Power supplies are available for operation on 120/277 VAC. Features include:

High intensity illumination with low power consumption enables longer service
IP 68 construction enables outdoor use
Withstands extreme environmental conditions of -40o C to 85oC
Unique Pulse Width Modulation (PWM) Drivers enables operators to dim or strobe light
Rob Bresnahan with Larson Electronics' Magnalight.com states, "With the introduction of this new color output LED light bar, a wide variety of applications can be served in many different industries. Green LED lights are very effective for bird control on industrial buildings, saving operators a lot on money in repairs."
Larson Electronics Magnalight.com offers a complete line of various LED lighting systems for virtually any industry, application, or environmental conditions. Magnalight can provide solutions for your lighting needs with our portable designs or permanently affixed versions. Magnalight has LED options for hazardous location lights, including custom build options. Visit Magnalight.com or call 1-800-369-6671 or (214) 616-6180 for international inquiries.