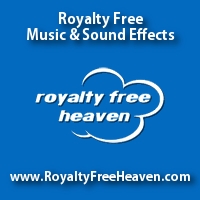 We are happy to announce a late summer promotion for new customers – up to 40% off!
(PRWEB) September 01, 2012
Lukasz Stasinksi, the owner of Royalty Free Heaven, has just announced a new sale on their massive library of royalty free music from professional recording artists. "We are happy to announce a late summer promotion for new customers – up to 40% off," Stasinski said. "Our regular customers also benefit from coming back to us, always."
A Large Selection of High Quality Music and Sound Effects
The majority of royalty free music available for purchase online ends up being really poor quality, but the production music at Royalty Free Heaven is available in a selection of two high quality formats. All stock music and SFX on the site are ready to download in both HD 24bit and CD 16bit Stereo Standard Wav files at 44100 Hz. They also provide a service where they will convert music or sound effects to other industry standard formats if needed.
A Library of Free Music for Blogs and Website Owners
Stasinski knows that not everybody has a budget and there are some customers who can't afford the top tier royalty free music offered. This is why Royalty Free Heaven is pleased to provide an entire section dedicated to free music for blogs and websites. With a wide selection of music at no cost Royalty Free Heaven is making sure that individuals have the opportunity to create their own websites at no cost while still appearing professional.
Extremely Fast and Secure Servers That Keep Personal Information Private
Royalty Free Heaven uses an SSL secure connection to provide the best security for their new and returning customers. With their secure servers purchases can be made by their clientele without any worry, they also refuse to hold onto any credit card information after a transaction has been processed so there is little risk shopping with them. Royalty Free Heaven has gone out of their way to make sure their customers' download needs will be met by investing in exceptionally fast servers to handle the traffic they receive.
ABOUT ROYALTY FREE HEAVEN
Royalty Free Heaven hosts a massive collection of royalty free music and special effects intended for professional and amateur productions and projects. They provide a broad range of music and constantly seek out and source new artists for their collection, offering that music to their customers with a onetime license transaction. 100% free from any additional fees, Royalty Free Heaven has become the go to website for high quality legal music for films, video games, websites, radio shows, trade show presentations, corporate videos and podcasts while always remaining royalty free. Fast, safe and secure, Royalty Free Heaven is the only place you will ever need to visit for royalty free production music, stock music and special effects. Visit them today at http://www.royaltyfreeheaven.com/.