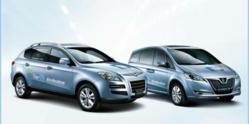 Luxgen's EVs are a huge hit at the Moscow International Motor Show this week.
Campbell, Calif. (PRWEB) September 02, 2012
Arnold and the Unimog U-1300
California's former chief executive Arnold Schwarzenegger, who signed into law an entire slate of strict emissions rules, recently purchased a Mercedes-Benz diesel Unimog U-1300. Schwarzenegger was instrumental in popularizing large cars when he acquired a fleet of Hummers before becoming Governor. Later, he downsized his personal fleet in order to reduce emissions, converting his only remaining Hummer to hybrid-drive. The star owns two other Mercedes-Benz models, an SL-Class convertible and an Excalibur.
German firm Mertec modified Schwarzenegger's new Unimog to comply with California's emissions laws. The Unimog is sold worldwide, primarily to military organizations, construction companies, and firefighting units.
Click here for full story.
Luxgen EV Cars on Display in Moscow
Taiwan-based Luxgen, one of China's newer automakers, is showing a full line of cars at Moscow's International Motor Show this week. The Luxgen7 SUV EV+ and the Luxgen CEO EV+ are the centerpieces of the company's display booth, though a combustion car, the Luxgen5 sedan, is also part of the lineup.
This is the first time the Chinese firm has presented in Moscow. The company's owners intend to sell their vehicles in Russia beginning in early 2013. The Luxgen display in Moscow is drawing crowds. It features a 'blind drive' exhibition in which a driver operates a car using only video cameras, with the windows completely covered.
Click here for the full story.
MPA's flagship website has grown into a major presence on the Internet. The site features a complete shopping mall as well as a free-to-list classifieds section for all things green.
For advertisers, MPA offers the chance to be in front of over 20,000 readers each month who are interested in hybrids and electric vehicles, as well as sustainable transportation in general.
Bob Twaalfhoven: President and Founder of MPA, is an MIT-educated engineer whose primary interest is planetary sustainability.
Larry Judkin, General Manger and Sales Coordinator, has tasked himself with taking MPA to the number-one spot among green transportation websites.
MPA's offices are located at 307 Orchard City Dr., Suite 210, Campbell, Calif. 95008.
For advertising opportunities, contact MPA directly:
Phone: 408-963-6427
Fax: 408-963-6730
Email: driven(at)myperfectautomobile(dot)com
Web: http://www.myperfectautomobile.com