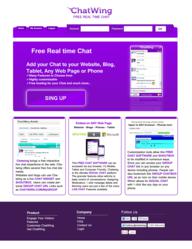 New York, NY (PRWEB) September 02, 2012
Many Forum Admins have switch to LatvianForum.Net forum builder because of its manageability and flexibility. It is important to have a well organized forum site to be able to attract visitors and increase online visibility. With LatvianForum, Admin can choose up to 100 customizable layouts and design that will fit the theme of their kind of forum. Not only that, LatvianForum provides 3000+ forum skins that will liven up that discussion board.
Forum Boards are important to some group of users because forum boards provide a great venue for information feed. Oftentimes, forum boards create robust online communities. Most of the time, people of the same interest gather together in one site to share ideas and enrich themselves with information provided by other people.
Chatwing has worked with LatvianForum to integrate a chat box on their forum sites. This enhanced the communication between Forum Admin and its visitors. With a free shout box on a forum site, visitors will have a real time conversation with the Forum Admin and other visitors as well. This promotes spontaneous conversation with each other and stimulates discussions over a specific topic.
Building relationship between visitors is easy with forum site. This is important so that visitors will visit the forum site again and again, increasing online traffic and visibility. Chatwing has incorporated social networks to its chatbox. For visitors to join the free live chat in the forum, they have the option to log in using their Facebook Account, Twitter Account or log in as guests. This way, Forum Admin can connect with their visitors through their Facebook or Twitter account as well increasing their reach in the social network.
Chatwing's chat widget can be easily installed to the LatvianForum site. Forum Admin simply needs to create an account with Chatwing by providing username and password, then an HTML coded will be generated which can be easily embedded to LatvianForum site. The best thing about this chat widget is that it is easily customizable. Forum Admin has the option for the widget to be embedded on the forum site or appear as a pop out button. Admin can also change the color, font and size of the widget to appear seamlessly on the forum site. This chat box can accommodate up to 1000 users online without decreasing its online speed and connectivity.
About Chatwing.com
Chatwing.com has developed live chat software for websites, forums and blogs. It caters to different online communities ranging from travel blogs, tech savvies, online gamers to fashion bloggers. Everyone can create a customizable live chat widget in less than a minute. The ability to chat via social media accounts such as Facebook and Twitter enable Chatwing to offer a special and one of a kind real-time experience to all sites. Chatwing is 100% free and very easy to use.