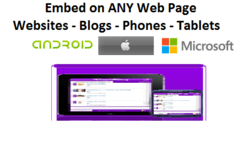 Boston, MA (PRWEB) September 03, 2012
Chatwing has recently developed chat software that will change the way of communication between website admin and visitors. This chat tool can be embedded on Iconosite Websites in a fast and easy way. Users only need to create an account by providing email address and password, and then an html code will be provided right away to be embedded on a website. Chatwing's chatbox is available as an embedded widget or a pop out button. This chatbox can be seamlessly integrated on Iconosite Website by customizing color and size.
IconoSites is an award winning free website builder for its exceptional design quality, ease-of-use and overall value. The best thing about IconoSite is that it is web-based, so there's no need to download or install. Users do not have to be technical experts to create their free website. Most businesses take their website design to IconoSite because it is tailor-made for discerning business owners. The website provided by IconoSite are elegantly made, it has the look of million dollar brand without spending a penny in creating the website.
Chatwing gives a new level of professionalism to IconoSite websites with its free live chat. This chat application is compatible to almost all kinds of platforms, and this includes IconoSite Websites. This free shout box can accommodate up to thousands of users without decreasing communication efficiency. Having a chat box on a website will allow online entrepreneurs to communicate with their clients on a real time basis and provide necessary assistance or information that will build trust and confidence from their clients.
Chatwing added social media integration to its chat box and this takes online communication to a personal level. Website visitors can join the shoutbox by just providing their Facebook or Twitter account information. However, should they prefer not to provide these details, they can log in as guest. Visitors who have provided Facebook details will make it easier to Website Admin to add these visitors as contacts on their Facebook page. Through this, they can expand their online visibility and increase their online traffic not only in their IconoSite Website but also through their Facebook or Twitter account as well.
With this online innovation by Chatwing, global connectivity of online communities has been made easier. This is why Chatwing development team has been working round the clock to further improve their service to the online communities.
About Chatwing.com
Chatwing.com has developed live chat software for websites. forums and blogs. It caters to different online communities ranging from travel blogs, tech savvies, online gamers to fashion bloggers. Everyone can create a customizable live chat widget in less than a minute. The ability to chat via social media accounts such as Facebook and Twitter enable Chatwing to offer a special and one of a kind real-time experience to all sites. Chatwing is 100% free and very easy to use.