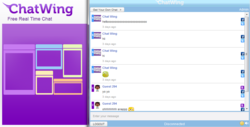 Houston, TX (PRWEB) September 05, 2012
Houston, TX - As one of the most preferred online website builder, Webnode has gained popularity from the internet community for the fast and easy creation of web sites that it offers. Not to mention that with Webnode, websites can be created for free with a free domain name. Chatwing has provided a chat software that can be added to Webnode websites. With this free chat widget, Webnode website administrators can enhance the intention of why the put up a website in the first place. A chat box in a website will enable website admins to communicate with their website visitors in real time.
Taking into consideration the idea of Webnode in providing free creation of personal or business websites or opening online stores, Chatwing provides an efficient supplemental tool to produce a positive outlook for website makers. The free shout box serves as a great source of information for website admins and web surfers alike. For those who create personal websites with Webnode, a good basis of ideas to generate interesting content can be sourced out from the free live chat from Chatwing since the target audience can give their views and opinions instantly. The website visitors can discuss about their thoughts with the website admin or with other web surfers through the Chatwing's chat box thereby creating a huge source of information which can increase the visibility of the website.
Webnode business websites can also utilize the free chat software from Chatwing to their advantage. With a free live chat, entrepreneurs can initiate sales talk to web surfers helping them achieve a high income generation with no extra cost at all because Chatwing provides the chatbox for free. The same goes true for Webnode online stores. The free chat widget can be a convenient venue for online technical support to existing business clients by getting their problems and giving them solutions right away. The free shout box also serves as a source for new business product ideas because prospective clients can share their interests therefore giving marketers a chance to innovate on their present marketing strategies.
Chatwing's chat software can be installed in any Webnode website in less than a minute. It has also been proven that the chat widget from Chatwing can be customized is a lot easier and faster to create compared to other existing live chat applications which are not free. Aside from being free, Chatwing does not require users to sign up and it does not demand any subscriptions whatsoever.
About Chatwing.com
Chatwing.com specializes in the new field of website and blog chat. Over years, the Chatwing team has introduced free live chat for hundreds and thousands of blogs. Its versatility and high rate of connectivity has engrossed online communities to utilize Chatwing's chat software. The Chatwing application bridges people of different race and culture, from many parts of the world, promoting global collaboration and camaraderie through the Internet. Chatwing is 100% free for everyone.