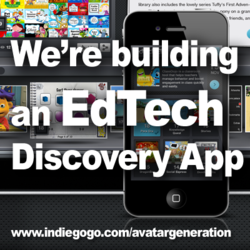 The EdTech Discovery App will help educators worldwide source new and exciting teaching tools
Dublin, Ireland (PRWEB) September 04, 2012
AvatarGeneration.com has launched an Indiegogo campaign to fund an educational technology discovery iPad app, edtech:ED. The app allows innovative educators to discover new teaching tools, and provides a platform for developers to showcase their educational apps, web tools, learning games and virtual worlds to their target audience. Every day through the app, a new educational technology product will be featured. Users can sign up for recommendations based on their interests and share their favorites with friends and colleagues.
With a growing Facebook community of over 2,400 fans, AvatarGeneration hope to raise $20,000 to develop the edtech:ED app and are asking developers and teachers to contribute funds on Indiegogo in return for app 'perks'. These include a copy of the iPad app, a special preview before public launch, a featured blog post and listing for developers. To support the campaign for edtech:ED, visit AvatarGeneration's Indiegogo page or watch their promotional video.
"There are hundreds of thousands of educational apps and software in the marketplace and developers are struggling to market their products to educators", says Samantha Kotey Editor of AvatarGeneration.
"The EdTech Discovery App will be a platform for developers to promote their products and give educators quick and detailed information about new teaching tools without having the hassle of trawling though many different websites, search engines and app stores"
The edtech:ED iPad app is an extension of AvatarGeneration's mission to bring together educational technology resources, and will help both educators and educational technology developers. The app will initially be developed for iPad and iPhone with plans for an Android app later next year.
For more information about the campaign visit: http://www.indiegogo.com/avatargeneration
About AvatarGeneration
AvatarGeneration is an educational technology website that has grown into a healthy community and go-to resource for news, information and listings on educational apps, web tools, learning games and virtual worlds. The website was launched in 2011 and has won an award from Trinity College, Dublin, Ireland in the 'Small Changes, Big Difference' competition.