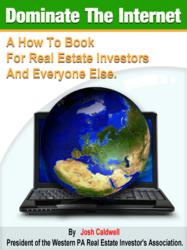 "If you want to make money in real estate, you need to have an internet presence" Josh Caldwell
Pittsburgh, PA (PRWEB) September 05, 2012
The aptly titled "Dominate the Internet: a How to Book for Real Estate Investors and Everyone Else", is a must have for anyone who wants to make money in today's real estate market. To reserve your copy today, either go to Amazon.com or the Western PA Real Estate Investors Association's web site.
This book is the first time that Josh Caldwell has offered to share such a volume of his marketing secrets with anyone outside of his Pittsburgh based real estate investing club. His writings have been featured in many publications including the online editions of The Indianapolis Business Journal, The Cincinnati Enquirer, The El Paso Times, The Boston Globe, The International Business Times, Ron Legrand's Gold Club, CREonline, and many more.
The purpose of this book is to offer a blueprint for small business in all fields to follow. The book is designed to guide the reader through the basic steps that are required to establish a solid internet presence in any competitive environment. Readers of the book will learn how to out-market their more established and better funded competition in a very short amount of time. The internet is truly an even playing field for everyone, where the business with the most knowledge comes out on top. Josh Caldwell has compiled his book to help other business people to leverage his knowledge and experience, so that they can benefit from his expertise.
When the idea to write this book first formed in Josh's head, he set a goal to distribute it as widely and as cheaply as possible. The purpose of this book is not to make a profit; the purpose of this book is to help as many struggling and future entrepreneurs as possible. With that in my Mr. Caldwell determined to place the book on Amazon's Kindle platform. This would eliminate the costly process of manufacturing a paper based book. In an electronic format the cost of production is virtually zero. Then Mr. Caldwell set the book price at $.99, the lowest price allowed by Amazon. This pricing and distribution strategy will guarantee that even beginners with the smallest of budgets can benefit from the creation of this book, no matter what industry they are in.
For real estate investors and entrepreneurs, there is another pathway to gaining the valuable nuggets of Mr. Caldwell's experience. Through the web site of his real estate investing club, there is an offer that is literally too good to be true, but it is true. Josh Caldwell is inviting everyone who wants to learn how to make money in real estate the same way that he learned it, to sign up for his free newsletter. In this information packed newsletter, Josh Caldwell will share his secrets and the secrets of some of the best known real estate investors alive today. For anyone interested receiving in this type of intensive information based product for free, go to Pittsburghreia.com for further details.