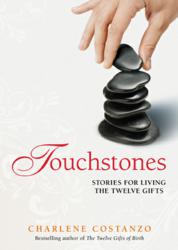 Today's Touchstones can increase our sense of value.
Sedona, Arizona (PRWEB) September 05, 2012
According to Charlene Costanzo, bestselling author of The Twelve Gifts of Birth, many people today are striving to rise above negativity, experience authentic hope, and see the good in themselves, in humanity, and in the world.
"And we all want to know that we matter and that we can make a difference," says Costanzo. "Today's Touchstones are meant to remind readers to call upon their powerful inner resources every day, which will make a difference."
Each Today's Touchstone consists of a short quote and comment, like a Tweet, and can be received daily via email by subscribing at http://www.charlenecostanzo.com
"Today's Touchstones can increase our sense of value and quality of life," says Costanzo.
"Similar to the way ancient touchstones helped people to identify and accept only authentic gold, Today's Touchstones can help people to identify and choose actions that reflect their inner strength, beauty, courage, compassion, hope, joy, talent, imagination, reverence, wisdom, love, and faith."
The self-worth specialist notes that, while the word "touchstone" initially referred to an actual physical stone that held the mark of true gold, in the modern world the word "touchstone" has expanded to mean: an example of the excellence, genuineness, or true value of something.
"Within this context, modern touchstones can be all sorts of things, such as quotes and stories, that reflect the highest qualities within humanity," she says. "Such touchstones are especially helpful when fear, hurt, or doubt is blocking our ability to face life's challenges with courage, compassion, and hope."
In her forthcoming book, Touchstones: Stories for Living The Twelve Gifts, Costanzo shares real life examples of triumphs, transformations, and healings that result from using our inner gifts. This collection of true stories is the fifth book in her series of books that focus on The Twelve Gifts.
Charlene Gorda Costanzo holds a B.A. in Philosophy from St. Bonaventure University and an M.A. in Spiritual Psychology from the University of Santa Monica.
The Twelve Gifts series began in 1987 when Charlene wrote The Twelve Gifts of Birth as a life message for her own, then teenage, daughters. Twelve years later she published the book and began discussing its message in schools, shelters, prisons, churches, and hospitals throughout the United States.
The Twelve Gifts for Healing was written while Charlene was in treatment for advanced non-Hodgkin's lymphoma in 2001. The Twelve Gifts in Marriage comes from the ups and downs, ebbs and flows, and hurts and healings that are part of every long-term marriage. The Thirteenth Gift is a novella that celebrates the gift of wonder as it reminds readers to see dignity in themselves and others.
In addition to writing about The Twelve Gifts, Charlene facilitates workshops and events designed to help adults and children recognize their gifts and talents. To learn more about Charlene Costanzo and The Twelve Gifts, please visit http://www.charlenecostanzo.com