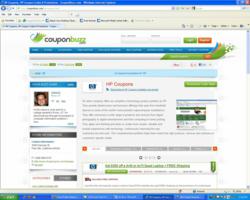 The HP Envy series is aptly named – representing a powerful line of laptops that inspire jealously almost upon first contact.
Houston, TX (PRWEB) September 03, 2012
Laptop users and computer enthusiasts who have been consumed with jealously now have a cure for that nasty green monster. Today CouponBuzz.com featured an HP coupon code that takes a remarkable $430 dollars off the retail price of the HP Envy 15t3200 laptop. For consumers who may have been waiting a long time to upgrade their laptop to meet the exacting standards of the Jones,' this HP coupon code could be the answer. Normally priced at $1349, the coupon drops the HP Envy 15 to the slim-wallet-compatible price of $919. Now for a limited time, every laptop lover can have the computer of their dreams. However, since the current offer is for over 30% off standard retail pricing, the coupon is understandably of limited duration, and is scheduled to expire on September 5th, 2012.
"Like most tech nerds, I find that every laptop I buy is only the latest and greatest for about six months," laughed Justin Bowen ruefully, one of the senior directors at CouponBuzz.com. "Then, sure enough, a friend shows up with a newer laptop that can do all kinds of things that mine can't – and do everything else what seems like a zillion times faster. Then the envy sets in, and I find myself wanting a new laptop just like theirs! The cycle repeats over and over again! The HP Envy series is aptly named – representing a powerful line of laptops that inspire jealously almost upon first contact."
Online shoppers can learn more here about how to apply the HP coupon code for $430 off the HP Envy 15t-3200 laptop, as well as see other current special offers from HP. The coupon is valid through September 5th, and cannot be combined with other offers. The basic specifications of the HP Envy 15t-3200 include, logically, a 15.6 inch screen with LED backlit display. The laptop also features a 1GB Radeon HD graphics card, a 720p HD webcam, and super-multi DVD Drive with double layer support.
The HP Envy 15t-3200 comes standard with a 750GB hard drive and 6GB of DDR3 memory. It boasts a 3rd generation Intel core i5 processor, and supremely long battery life, courtesy of the 8-cell lithium ion battery. This particular offer also includes a software bundle of Adobe Photoshop Elements 10 and Adobe Premier Elements 10. Full details on the HP Envy 15 laptop as well as instructions on how to utilize the HP coupon code for $430 dollars off, can be found in the HP coupon section at CouponBuzz.com. Dedicated to providing links to all of the current HP special offers, this special webpage is located here http://couponbuzz.com/hp-coupons.html.