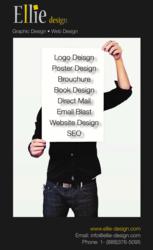 Greenwich SQ, Ashburn, VA (PRWEB) September 04, 2012
Ellie Design has earned the respect of competitors and clients alike in the areas of website design, search engine optimization (SEO) and internet marketing. It has helped many small and starting business companies go up the ladder of the highly competitive internet marketing through the Ellie Design unique and user friendly website designs and its highly effective package of website marketing services. http://ellie-design.com/packages.html
No business is too small or too new for Ellie Design. With its custom start-up package, Ellie Design aims to help starting businesses climb each step of the internet marketing ladder and make names for themselves at very affordable and negotiable fees. The 8-point service package covers:

Creation of a professional Logo Design
12-month website hosting
One-month of search engine optimization
Google Analytics submission and daily report
Creation of Social Media Design
One-year of phone and email support and
Designing and printing of an attractive stationery pack
Ellie Design's assistance concentrates on the maintenance of the company's high visibility and high product/ service demand.
Aside from pooling together the expertise of professional graphic and web designers, architects, photographers and internet marketing specialists, Ellie Design provides its clients the highest importance and respect they deserve. Once an agreement is established, the client becomes an Ellie Design partner in the company's development.
Each project starts with a meeting with the client to know the client's wishes, ideas and objectives. This is to ensure that the logo design, the website brand design and internet marketing package that will be created is customized to the client's purposes, needs and peculiarities. After a stimulating exchange of ideas, suggestions and eventual agreement, the wheel of professional preparations starts grinding.
Ellie Design's website marketing package includes website competitor analysis, and keyword research and analysis, SEO, email blitz and social media promotions. A new addition to its package of services is video which can effectively convey the merits of a company or product being promoted in the internet. These strategies have proven most effective in increasing the search engine ranking of the client website which equates to high visibility of the business among internet searchers.
Ellie Design's social media barrage covers the millions of Facebook, Twitter and You Tube subscribers all over the world.
Because the target consumers are people of all ages across continents and countries, the appeal of Ellie Design's brand designing and social media promotions have both a general and a specialized fit. They are simple, easily understandable and attractive to ordinary people. At the same time, they are of such quality as to more than measure up to the standards of professional website design and internet marketing.
From clear indications, Ellie Design does not sit on its laurels. The company continues to discover new and more effective strategies to help company clients, small or big, to go up the internet marketing ladder and maintain their hard-earned top ranking.
Ellie Design urges new business entrepreneurs to call them at number 1-888-376-5095 to begin the exciting climb to the top of internet marketing.