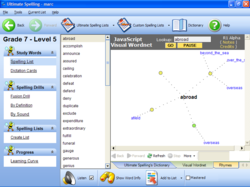 Without learning how to spell, people are doing themselves a disservice.
New York City, NY (PRWEB) September 14, 2012
Many people today have come to rely on spell checkers dramatically in their work. It seems as though spelling has taken a step back in importance because of spell checkers. While people may not see the need to learn to spell correctly, this is an assumption that should not be made.
According to Marc Slater of Ultimate Spelling, "While the use of spell checker is helpful, people still need to learn how to spell correctly. Without learning how to spell, people are doing themselves a disservice."
The College of Brockport in New York's recent research has looked at the dependency on spell checker by college students. The findings show that poor spellers rely more heavily on spell checkers than those who are good at spelling. In addition, poor spellers depend more on spell checkers to proofread their work as opposed to their counterparts.
In the same study, spell checkers were determined to be unable to decipher between homophones. Because of this, poor spellers continued to have many proofreading and spelling errors. Relying only on spell checkers to solve all writing and proofreading issues was found not to be the sole solution.
According to Ultimate Spelling, a variety of tools and resources should be utilized to assist a person in improving his or her spelling. "We need to get back to basics without relying solely on technology to do the work for us," adds Mr. Slater. "Because of such intense competition for school admissions and job opportunities, good spelling and strong proofreading skills are now more important than they have ever been before."
To find out more and get on the road to better spelling by next week, please visit: http://www.ultimatespelling.com
*******
About Ultimate Spelling™
Ultimate Spelling provides a modern and easy to use spelling software that has been designed with one goal in mind – making children WANT to learn.
It is a fast and easy way to master even the most complicated spelling, without the need to write long lists or complete boring tests.
In fact, Ultimate Spelling provides more than just spelling help. It is a complete educational resource that boosts all level of a child's literacy.
Containing a personal computer tutor, Ultimate Spelling is the most realistic step-by-step guide to flawless spelling ability.