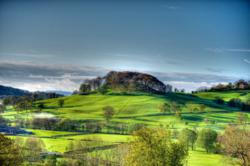 We had no idea how popular they were going to be,
Peak District, UK, 4th September 2012 (PRWEB UK) 4 September 2012
The offices of Peak District Online are ringing out with the sound of congratulations, as the team celebrate another Peak District video record-breaking event. The largest collection of videos to feature the Peak District National Park in one place online, have now reached over a quarter of 1 million unique viewers and PDO are very proud of their success.
"It seems that things are going from strength to strength," reports Steve Wake, one of the quartet of directors for Peak District Online. As a website which started life as a small, family run online business directory for Peak District Cottages and accommodation in the area, the company can now boast over 200, 000 brand-new visitors to their website each month and the amount keeps growing they say. The latest accolade for the winning website is to have reached a staggering 250,000 viewers to their dedicated Peak District TV channel, in just over a year.
"We started off our Peak District TV channel to highlight hotels, bed and breakfasts, pubs and all kinds of holiday places to visit, for our viewers online. We had no idea how popular they were going to be, but are absolutely thrilled and delighted at the response. Our holiday accommodation owners have also seen great success and can certainly see a rise in their own visitor figures."
Last month. Peak District Online reported one of their videos breaking over a fifth of 1 million viewers but they had no idea at the time what was to come. 'Inside Chatsworth house' is a stunning video montage capturing the beautiful Derbyshire stately home in all its glory. Having only just celebrated its first annual birthday, over 14,000 people, with over 200,000 viewing figures, have just been recorded and everyone Peak District Online is delighted with all their video's success .The team hope to grow their Peak District videos to include every village in the Peak District eventually.
"We have over 170 videos at the moment," explains James Dobson, fellow director at Peak District Online." All our videos are aimed at inviting the viewer to walk at their own pace, either through a holiday accommodation that they would like to stay in for their holidays, or to absorb the wonderful atmosphere of each town or village, so they can get a taste first-hand of where they are likely to stay for their holidays."
"Being able to see inside the heart of the village is certainly wonderful way of discovering the secrets not every holidaymaker gets to see, whilst sitting comfortably in your own home," says Steve." We pride ourselves at presenting all parts of the Peak District in various formats and the videos are just one way of expressing an impression. Our written articles are accompanied by stunning photographs, which are all taken by people who love this area dearly." He goes on to say, "we also list the largest list of holiday accommodation of the Peak District in the UK, as well as listing the latest Peak District news and information on behalf of the accommodation owners, but most importantly, to provide relevant information to the visitors who arrive at the Peak District for their holidays or day trips. The success of the videos gives the three dimensional view of any photograph we have taken, but they also inspire confidence in the potential customer to book a place to stay."
The team at Peak District Online are very proud to show off the splendours of Peak District in video format, to help those who aren't able to get up to the Peak District to sample it for themselves.
Keep up-to-date with all the latest information and see the Peak District videos, which have always been very popular part of the websites winning formula as they are released on Peak District Online's very own TV channel at http://www.peakdistrictonline.co.uk.