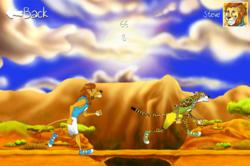 "This is certainly the wave of the future." John Emery, MD. Canadian Gold Medal Olympic Bobsledder.
Sonoma, California (PRWEB) September 04, 2012
GenZplay, a developer of children's phone and tablet software, announced the availability of 'Big Cat Race,' a new app that changes children's gaming into an aerobic, outdoors activity. The Big Cat Race app is the first title focused on moving video gaming out of the home. Big Cat Race allows kids to have the interactive fun of a video game combined with outdoor exercise. Pick a cat and race against 2 other cats, through obstacles, over hills and earn prizes in this animated series of children's fitness applications. Children age 3 and up run and jump to play as the app's Big Cat in a cartoon race against other 'Big Cat' children around the world, or play against the computer.
"GenZplay is focused on making phone and tablet time a healthy part of the day. We use psychological principles such as 'reactance theory' to make screen time into active time and use technology to both motivate and moderate a healthy lifestyle," said Stephen Calhoun, Company Founder and CEO. "Our current goal is to release a 99 cent episode every week, much like a children's cartoon TV series. We are currently working with two Hollywood movie stars and two Olympic athletes to further develop this vision."
Stephen realized that he wanted his son to grow up playing video games outdoors. His lifelong passion for extreme sports and outdoor adventures prompted this new genre of gaming apps. The Big Cat Race is the first app on Android or Apple iOS platforms to focus on moving video gaming out of the home. "We are excited to create a mobile gaming lifestyle that doesn't compete with the real world that is going on around us."
GenZplay apps, such as Big Cat Race, teach self-motivation and self-moderation skills that extend from helping children be more active to promoting proper sleeping habits and eating healthier. Children also have the opportunity to upgrade their character via educational quizzes and parents can set up a simple nutrition and activity-based rewards system.
"GenZplay believes that the computer should not be the main focus of our everyday lives, but purely a device for communication and education. Our drive for healthiness and happiness should come from within, " Founder Stephen Calhoun continues. "Using these apps will be a motivating and entertaining way to enjoy and explore our world. We can learn about nature and nutrition at the same time."
ABOUT THE COMPANY:
Based in Sonoma Valley, California, GenZplay was founded in August 2011 by Stephen Calhoun to make video games a physically active part of his son's outdoor life. The company is focused on integrating gaming mechanics with everyday activities, especially those that need a mixture of fun and adventure to motivate and inspire.