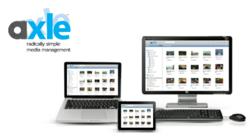 Adobe and axle customers now have a very straightforward, easy-to-implement solution that makes finding, sharing and working with media and assets far easier and faster even for the smallest of shops." - Bill Roberts, Adobe
Amsterdam (PRWEB) September 04, 2012
axle video, a startup focused on providing simple, cost-effective media management solutions for video professionals, today announced initial availability of axle™ 1.0, in a consultative field rollout. axle lets video producers, small post production teams and owners of video libraries organize, annotate, search and collaborate on their media through a simple iPad-friendly web interface. Under the company's 90-90 plan, the first 90 customers for the software will each receive 90 minutes of setup and workflow consultation with members of the product team. axle is exhibiting at IBC in Hall 5, stand 5-C06.
axle interoperates with assets and workflows from several major vendors of content creation tools, and four leading vendors in the media production space – Adobe, Telestream, Active Storage and ATTO – are showing support for how axle can add value to their customer's workflows. At IBC, axle is showing the breadth of the partner ecosystem that is possible around its product, a new category of affordable media management that brings mobile devices such as iPads and lightweight laptops into production workflows.
"We are pleased to join forces with axle, who are now offering a new media management solution that integrates with Adobe Premiere Pro CS6," said Bill Roberts, director of video product management at Adobe. "By leveraging the integration between our solutions, Adobe and axle customers now have a very straightforward, easy-to-implement solution that makes finding, sharing and working with media and assets far easier and faster even for the smallest of shops."
Kevin Louden, Telestream's product manager for the Episode line, announced the availability of Episode single- or multi-system clusters as a transcoding subsystem for axle, providing customers with a high performance option to transcode files from almost any file type. "axle video has an exciting product and we are happy that they have chosen to integrate Episode transcoding with their system" said Louden.
Alex Grossman, Pesident and founder of Active Storage stated "Active has built a reputation of developing innovative and easy to manage, high-throughput storage solutions that drive efficient media workflows. We have been looking for an alternative to the large and complex media asset management installations to complement our mMedia platform, axle is the first such solution, and one that we're excited to be partnering with at IBC."
Wayne Arvidson, Vice President of Marketing at ATTO Technology, said "axle's use of standard Mac mini servers in a highly connected environment is a perfect fit for our new Desklink family of Thunderbolt-enabled adapters for FibreChannel and 10 Gigabit ethernet. We are excited to be teaming up with axle to develop reference solutions that together can be integrated into a wide variety of network topologies and storage architectures".
axle video also announced that it is beginning phased shipments of axle 1.0, the software it unveiled last month. The deployed version of the software is priced at 995 Euros per 5 users, and is installable on a quad-core server configuration of Apple's Mac mini. Installations under axle's 90-90 plan can be scheduled from late September through early 2013. axle 1.0 can be purchased directly from axle, or from a number of workflow-savvy dealers and integrators worldwide.
Finally, axle announced a limited-time trade in offer for owners of Apple's Final Cut Server software. By providing evidence of ownership, these customers will receive a 400 Euro trade-in against their purchase of a base 5-user axle 1.0 system.
About axle
axle video, LLC is a Boston-based company aiming to bring radical simplicity to media management applications for small and midsize workgroups. Its founders, Sam Bogoch, Steve Ryan and Patrice Gouttebel, all have extensive experience in the fields of media asset management, digital asset management and creative applications.
Background
Two audio interviews with Sam Bogoch, axle's CEO, conducted by Dave Ginsberg are available online at http://www.elegantworkflow.com Sam is available to answer questions before and during IBC.
###
Company Contact: Stephen Beals, Stephen(dot)beals(at)axlevideo(dot)com, tel +1-315-569-9150
Agency Contact: Dawn Egerton, dawn(at)bubblesqueak(dot)co(dot)uk, tel +44-887-627-764