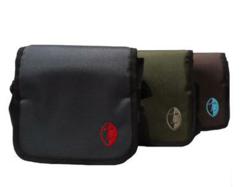 This is the BEST personal bag I've ever owned. I like the simplicity and functionality. - John Scalici "Juka Tribe"
West Linn, Oregon (PRWEB) September 05, 2012
Portland, Oregon based Namba Gear introduces the Samba Personal Stash Bag which they explain is the ideal solution for those "personal essentials". Namba Gear cites physical therapy studies showing the negative effect on the spine of carrying a wallet in a back pocket; "Sitting on a wallet for a long period of time can shift your pelvis on one side, deviating your lumbar spine and causing back pain." The Samba Personal Stash Bag offers a stylish alternative to stuffing the pants pockets or trying to keep track of all the small everyday items that we need to carry with us on a day to day basis.
The Samba Personal Stash Bag is Namba Gear's first lifestyle product but was still designed with the musician or DJ in mind. Measuring 7″ x 7″ x 3.5″, the extra-long strap allows the Samba Stash Bag to be worn across the chest or off the shoulder. Features include two inside zippered pockets and one outside Velcro pocket. The bag can be used to carry CD's, memory stick, iLok, wallet, keys, handheld digital recorder, camera, iPod, in-ear monitors, phone, pen, notepad, business cards and hundreds of other small items that a musician or DJ needs to carry with them.
Designed for both men and women, the bags are available in five different colors, with contrasting bright interiors to help find items in a darkened room such as a club or bar. Namba Gear calls it a high performance bag because of the construction detail and the extreme high grade weather-resistant 1680D poly nylon materials used.
Namba Gear products are available via musical instrument & DJ retailers, Amazon.com, Best Buy online, as well as through Namba Gear's online web store.
About Namba Gear:
Namba Gear is a Portland, Oregon based bag and accessories company that designs and produces premium, high performance transport solutions for the working musician. The essence of the brand is defined by the working musicians and dj's at Namba Gear who are dedicated to creating and delivering exceptional carrying solutions that will stand up to the unique and rigorous workload of professional musicians.