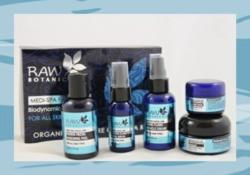 We feel like the OTA really gives us a helping hand in educating our clients
(PRWEB) September 04, 2012
Raw Botanicals is proud to announce that is has become a member of the renowned Organic Trade Association (OTA).
"We are so pleased to be a part of such a fine association that really reflects our values in regards to organic products and organic professional spa products in particular," says Raw Botanicals founder Molly McBride. "So often it is difficult for businesses to explain to clients what it is to be organic and what it really means to produce organic professional spa products. We feel like the OTA really gives us a helping hand in educating our clients."
Founded in 1985 the OTA's has played a leading role in protecting and promoting organic agriculture and trade, as well as protecting the integrity of what it means to be organic.
Raw Botanicals was founded in 2002 to fill the need in the Costa Rican market for an organic profession spa product line.
"When we started Raw Botanicals we really had just a couple of products" said Molly when talking about the companies roots. But sales grew and so has the product line, which now is spread over several different lines encompassing over thirty products. "We never thought that we would be this big or in so many locations. We now ship our professional spa products all over the world, it is really exciting."
To keep up with demand in the U.S., Raw Botanicals recently opened a fulfillment center in Portland, Oregon. "It was the right time for us to expand our operations to America" Juan Carlos Villalobos the company's production manager stated. "We used to ship all of the products directly from our laboratory in Manuel Antonio, Costa Rica, and that would take around 2 weeks for a client to receive the products. Now with the new fulfillment center our spa clients can get the professional spa products within a week and our online clients in 2 to 3 days. It's really awesome."
Raw Botanicals products are available in the U.S.A. online at http://www.rawbotanicals.com and at professional spas and select retailers throughout the world.