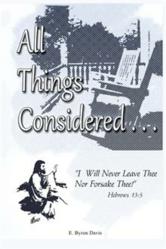 MOODY, Ala (PRWEB) September 05, 2012
The biblical Scripture "I will never leave thee nor forsake thee!" (Heb. 13:5) has special meaning for E. Byron Davis, author of the new memoir "All Things Considered" (published by CrossBooks).
"Because of the rather extreme poverty in my background, and my eventual call to, and preparation for, the gospel ministry," explains Davis, "I wanted to record for prosperity, and witness to those who will read the book, that God has truly kept his word to me: 'I will never leave thee nor forsake thee!'"
"All Things Considered" ventures to rural Sand Mountain in northern Alabama, where Davis was born and raised. He was a country lad who worked regularly in the cotton fields, wore striped overalls to school, studied by coal-oil lamps at night, and constantly had to prove his worth to his city-bred school mates. Developing comfort within one's own skin was a demanding process but necessary for survival. Growing up during the Great Depression, Davis experienced the chasm between city kid and country boy and between the landowners and the tenant farmers – a chasm of customs, mores and incomes. In this memoir, he explores the differences in areas such as values, loyalties, and work ethics, and he touches on the language and how simple words could take on a wide variety of meanings.
In the tradition of those times, Davis has titled his autobiography "All Things Considered," a phrase used often by country folk in gossip or problem-solving sessions. It simply meant that the entire issue or incident had been carefully contemplated and studied, and the best judgment was made in the matter. This memoir recalls times long past and reminds us of the importance of God's love in any community.
"God's provision and leadership is so evident to me," says Davis, who hopes that his simple and homely remembrances will lead his readers into a closer relationship with God.
About the Author
E. Byron Davis was raised on Sand Mountain in northern Alabama, near Albertville and Boaz. He preached his first sermon in 1948. Since then, he has served as pastor for several churches in Alabama and Louisiana. He holds degrees from Samford University and New Orleans Baptist Theological Seminary.
CrossBooks, a division of LifeWay Christian Resources of the Southern Baptist Convention, is a Christian publishing imprint committed to bringing more Christian voices into the publishing industry. Established authors, first-time authors, and authors anywhere in between can meet their goals and fulfill their vision for their books by publishing with CrossBooks. CrossBooks' innovative style of publishing blends the best of traditional and self-publishing. While our authors contribute monetarily to cover the cost of publishing, we maintain a strict moral and quality standard that every manuscript must meet for us to publish. For more information on publishing your Christian book with CrossBooks, log on to crossbooks.com or call 1-866-879-0502.