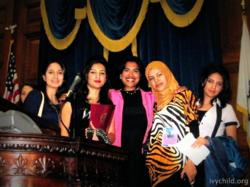 "Today's young are tomorrow's leaders. Developing and instilling leadership skills in children and youth early on, when they are most receptive to learning, a more significant impact is possible creating a seasoned generation of global citizens."
Worcester, MA (PRWEB) September 06, 2012
Ivy Child International (Ivy Child), a cross-cultural positive psychology non profit, is offering high school students the opportunity to participate in Ivy Child's Youth Ambassador Program which will give them the opportunity to create positive change in their communities while developing leadership skills.
The development of leaders is of the utmost importance not only for communities but also for organizations, as both for-profit and not-for-profit organizations rely heavily on the leadership of their teams. Most organizations utilize time and resources to develop and grow the leaders within their organization, however, studies have shown that despite some improvement in personal leadership skills from these programs, the effect is still minimal. A recent paper published by The Leadership Quarterly emphasizes the need to begin leadership training prior to adulthood.
Early leadership experiences creates the foundation upon which future leadership development is built. The two main reasons for early leadership experiences being the foundation are: the greater ability for development to occur at a young age and the self-reinforcing nature of leadership.
"Today's young are tomorrow's leaders, developing and instilling leadership skills in children and youth early on, when they are most receptive to learning, a more significant impact is possible creating a seasoned generation of global citizens," said Rose Pavlov founder of Ivy Child.
Development occurs more rapidly in young children and adolescents because their behavior, character and personality are more malleable due to their developing brains. When adulthood is reached, an individual's brain stops developing and thus learning new skills becomes more difficult. Early in life, individuals go through a developmentally sensitive period where they learn and develop skills more rapidly. Contrary to a crucial period, a sensitive period is not the only time when the skill can be learned but is the time when the skill is developed most rapidly. Adequate development during a sensitive period does not guarantee successful development but rather builds the foundation for future development to occur.
The process of becoming a leader is also self-reinforcing and thus promotes the continuing development of leadership skills. As an individual gains more experience in leadership and becomes more confident, he or she will engage in more leadership opportunities, they will gain more confidence and the cycle will continue.
Ivy Child's Youth Ambassador Program is focusing on long-lens leadership development with an emphasis on global awareness, civic education, and community service.
The goal of this program is to empower teenagers to create action plans for positive change in their communities. Teens participating in the Youth Ambassador Program will be acting as ambassadors in their communities and schools by organizing fundraising and awareness events. Through the organization of these events, the students will learn leadership skills and will spread awareness about key issues such as bullying and global perspectives throughout their communities.
Some of the highlights of the program include the opportunity to work with an international non-profit organization as well as having an opportunity to collaborate with other student ambassadors, Ivy Child leadership and affiliates. Most importantly they will have an opportunity to create positive change and develop key leadership skills.
Highly motivated individuals will also have the opportunity to apply to participate in Ivy Child's International Service Learning Program (ISLP). This program combines academic training with community service and cultural immersion to give students a meaningful study and volunteer abroad experience. This program is aimed at globalizing the student's educational, field, and volunteer experiences through participation in community-based, on-site research.
In the summer of 2013, Ivy Child will be launching the ISLP in the scenic state of Kerala, India. Students will study at the accredited Mahatma Gandhi University in Kerala and will have over 20 hours of on site field work at schools and orphanages. The program offers the student the opportunity to know the local culture, customs and cuisine through organized tours, workshops and activities. Studying abroad gives students a lifetime of benefits including personal growth, instills greater academic vigor and Ivy Child's ISLP strives to provide students a life-changing experience.
Ivy Child International is a leading resource for caregivers, educators, community agencies, and healthcare organizations to receive guidance and instruction on creating a healthy child-centered environment. We offer and have created customized curricula to address the most pressing issues of today. Our three premier programs are: Bullying Prevention and Leadership, Yoga and Mindfulness for kids and pediatric cancer patients, and Multicultural and Music Education. These programs teach conflict resolution skills, self-regulation, and cultivate cross-cultural understanding. We conduct and present our curricula in schools, after-school programs, hospitals, community centers, etc. Read more about our programs by visiting: ivychild.org/programs/
To partner with Ivy Child or for an interview, please contact:
Rose Pavlov, Founder of Ivy Child International, by phone: 508-299-7905 or via email: rpavlov(at)ivychild(dot)org.