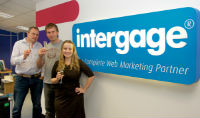 "We've been looking to add traditional marketing services to our offering for some time now in order to become a fully integrated agency – Emma James and the team at Tasty have the service offering, experience and talent that we've been looking for."
(PRWEB) September 06, 2012
Digital marketing agency Intergage has launched a new range of integrated marketing services following its acquisition of fellow agency Tasty Marketing.
Intergage's acquisition of Tasty Marketing enables the company to provide offline communications campaigns alongside its rapidly expanding Web marketing services.
New services offered via Tasty include strategic marketing planning, graphic design, offline PR, direct mail, advertising, event management, print management and newsletters.
Intergage and Tasty have been working on a number of projects together since March.
These projects have proved such a success that acquisition was a logical next step for both agencies.
Intergage Managing Director Paul Tansey said: "We are delighted to have Tasty Marketing on board.
"We've been looking to add traditional marketing services to our offering for some time now in order to become a fully integrated agency – Emma James and the team at Tasty have the service offering, experience and talent that we've been looking for."
Tasty Marketing Services is now based at the Intergage head office in Poole, Dorset. The team will also be working with clients at Intergage's Chandler's Ford, Hampshire office.
The combined Intergage and Tasty teams celebrated the union of the two agencies with a champagne reception.
Paul Tansey said: "It's been great to welcome the new team into our offices and raise a glass to our bright future together."
Tasty founder Emma James launched her agency in 2007, working with clients across Dorset, Hampshire and South Wiltshire.
She expanded the business to its current team of five and as Business Development Director will be offering services across the UK alongside website design and the other Web marketing services provided by Intergage.
"The strategic growth opportunities are superb. Everyone at Tasty is delighted to be joining such a passionate and talented company," she said.
Intergage was founded by directors Paul and Harry Tansey. The company traces its history back to the year 2000.
Technical Director Harry Tansey launched the business after creating the powerful, robust and easy to use Intergage Web Content Management System (CMS).
Intergage has now become one of the South Coast's leading agencies, offering a wide range of digital services including:

Intergage also offers Web video production to help companies improve their conversion rates and return on investment (ROI) through enhanced use of streaming video on their websites.
For more information, please visit the Intergage and Tasty websites or contact Intergage Marketing Manager Emma Barrow on 0845 456 1022.
-Ends-
About Intergage
Intergage Ltd is the complete Web marketing partner, a leading UK digital marketing agency that continues to expand and recruit the brightest staff. It currently has two offices in Poole, Dorset and Chandler's Ford, Hampshire.
All Intergage services have a clear focus on providing their customers with a return on investment from their Web marketing.
Intergage Web marketing services include:
designing and building websites that enable clients to manage their own content using the unique Intergage Content Management System (CMS)
planning and managing Search Engine Optimisation (SEO), Pay Per Click (PPC) advertising, Digital PR and Social Media Marketing needs to ensure your site receives and successfully converts a steady stream of customer enquiries
comprehensive Web marketing training to empower you and enable you to manage SEO, PPC, Social Media and the Intergage Content Management System.
Intergage is committed to a long term relationship with each and every client and is constantly seeking ways to improve your website results.
Intergage boasts more than 300 clients. Having started the business 12 years ago, Directors Paul and Gareth Tansey are proud to have retained at least 95 per cent of clients year on year.
For more information about Intergage, any of the services it provides or just to have a friendly chat with a team member, please visit the Intergage website or contact Marketing Manager Emma Barrow on 0845 456 1022.
Intergage Ltd (Dorset & Head Office)
Unit 8, Holes Bay Park
Sterte Avenue West
Poole
Dorset BH15 2AA
UK
Tel: 0845 456 1022
Tel: +44 (0)1202 684009
Fax: +44 (0)845 456 0722
Intergage Ltd (Hampshire Office)
3a Westlinks
Tollgate
Chandlers Ford
Hampshire SO53 3TG
UK
Tel: 0845 456 1022
Tel: +44 (0)23 8064 7005
Fax: +44 (0)845 456 0722