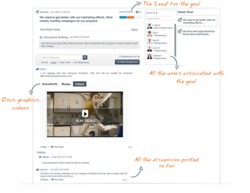 Marlborough, MA (PRWEB) September 05, 2012
Collabor's launches Wondercrowds, an on-demand software application to the public today.
Wondercrowds is designed for businesses of all sizes to help them prioritize, manage and make better decisions.
"Decision making is a complicated process. While there are systems & tools, they address only a narrow set of concerns. Wondercrowds was built out of our own frustration in piecing together various tools," says Sandeep Kaujalgi, CEO of Collabor.
Mahendra Penumathsa, COO of Collabor Inc. stated, "Wondercrowds supports decisions making for organizations of all sizes and at all levels from Executive suit, to Managers, Directors and team leaders. It is versatile enough to be used within an organization and include external parties like customers, partners etc. when necessary."
Wondercrowds supports decision making at all levels of the organization, from the executive suite through small teams. Wondercrowds keeps all the required elements in one place and provides three well defined phases: Ideas, Discussions and Decisions, to streamline the decision making process.
Software highlights include:
1.Role based actions for decision makers and team members.
2.Time-bound goals to ensure timeliness in decision making.
3.Manage multiple goals – short-term, medium-terms and long-term with multiple teams.
4.Get all the people necessary, even across time zones, to collaborate in making decisions.
5.Analytics on goals, users to monitor one's progress in making decisions.
6.Wondercrowds is available on all popular smartphones, iPads and tablets.
To learn more about Wondercrowds click here
Pricing and Availability:
Wondercrowds is available for use immediately and you can get started for free. To learn more about Wondercrowds pricing plans click here
About Collabor:
Headquartered in Marlborough, MA, USA (and Hyderabad, India) Collabor Inc. provides enterprise collaboration solutions. Wondercrowds is a time bound, moderated, idea management and decision making software-as-a-service product from Collabor. Wondercrowds is an on-demand solution built with the sole purpose of helping people in making decisions simpler, organized and effective. For more information, visit http://www.wondercrowds.com. Follow Wondercrowds on Twitter: @Wondercrowds