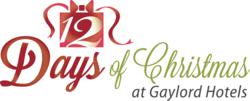 Nashville, Tenn. (PRWEB) September 04, 2012
Gaylord Hotels has launched a "12 Days of Christmas" offer allowing guests to save 20 percent off best available room rates on 12 select days during December from now until September 30. The offer is available at all four resorts, located in National Harbor, Md. (just outside of the nation's capital); Nashville, Tenn.; Kissimmee, Fla. (near Orlando); and Grapevine, Texas (on the outskirts of Dallas).
The "12 Days of Christmas" are select Sundays through Thursdays. These dates allow guests to experience Gaylord Hotels' Christmas celebration, save money and avoid the holiday hustle and bustle that occurs during the weekends and other popular times. To check availability and book one of the "12 Days of Christmas," guests should visit the Gaylord Hotels website.
Guests from all over the world travel to Gaylord Hotels to surround themselves with the spirit of Christmas. From millions of holiday lights to visits to ICE! attractions featuring DreamWorks Animation SKG Inc.'s Merry Madagascar and Shrek the Halls, this experience is a Christmas memory waiting to be made.
About Gaylord Hotels®
Gaylord Hotels® is a collection of four upscale, resorts which afford endless opportunities for leisure travelers and conventioneers. The hotel company's hallmark – "everything in one place" – provides vacationers with diverse dining options, quality spa and fitness center services, top-notch entertainment, on-site shopping and endless activities – all within each resort. Gaylord Hotels is a pioneer in the hotel and convention industry with properties in the nation's most desirable destinations. Gaylord Hotels include Gaylord Opryland® in Nashville, Tennessee; Gaylord Palms® in Kissimmee, Florida near Orlando; and Gaylord Texan® on Lake Grapevine near Dallas, Texas, and Gaylord National® on the Potomac in National Harbor, Maryland. Gaylord Hotels is owned and operated by Gaylord Entertainment (NYSE: GET), a leading hospitality and entertainment company based in Nashville, Tenn. For more information, please visit: http://www.GaylordHotels.com.
# # #
Discount based off normal, non-promotional rates. Restrictions apply; see website for details.
Shrek, Madagascar, Kung Fu Panda, How to Train Your Dragon and all related characters and properties ©2012 DreamWorks Animation L.L.C. Shrek the Halls © 2012 DreamWorks Animation L.L.C. Merry Madagascar ©2012 DreamWorks Animation L.L.C.