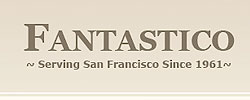 San Francisco, CA (PRWEB) September 04, 2012
Many business and office park owners have experienced the benefits of decorating corporate lobbies, waiting rooms and office spaces with artificial trees. Trees create a natural, inviting atmosphere in any space and with no maintenance required, they have become a popular decorating basic for interior designers and architects alike.
Fantastico, a leading provider of residential and commercial décor in San Francisco, has created one of the most practical and unique services for businesses who need a tree to fit a specific space. The company creates artificial trees that are customized to the customer's specifications.
"Whether you need a taller or thinner tree to fit a narrow space or a large tree, we custom build trees to fit your needs," said Mike Ferro of Fantastico. "Measure your space and come into the store to select the type of tree and leaves that fit with your design."
Fantastico offers a wide variety of leaves to choose from for a custom tree that is up to 12 feet tall. They make leechie trees, birch leaf trees, ficus and trees using wisteria leaves a ficus-type tree that has been the most popular choice this year for decorating corporate spaces. Customers can also choose from a large inventory of pre-made trees, plants and silk flower arrangements. Artificial trees are built onsite and are the perfect solution for restaurants, staging, hotels and offices. For complete information about all Fantastico products, visit their website at http://www.partysuppliessanfrancisco.com.
About the company:
With over 21,000 sq. ft. of retail space, Fantastico is sure to have exactly what holiday decorators are looking for. Their inventory includes a wide range of products including seasonal party supplies, commercial and retail Christmas decorations, artificial plants, and glass vases. With a a staff that is both knowledgeable and friendly, they are always ready to help customers find exactly what they're looking for. For more information, please visit their website at http://www.partysuppliessanfrancisco.com