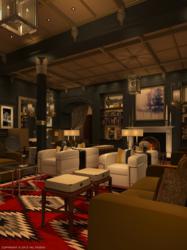 "Hotel Jerome is a distinctive American icon and innovator, so we enlisted top design talent to continue its evolution and status as Aspen's fashionable destination," said Eric Calderon, Principal and Chief Operating Officer, Auberge Resorts.
Aspen, Colorado (PRWEB) September 04, 2012
Auberge Resorts, the internationally renowned developer and operator of exceptional hotels and private clubs, announced plans for a comprehensive revitalization of Aspen's legendary Hotel Jerome, which closed in August and will reopen in December, in time for the winter holidays and ski season.
The redesign of the 93-room hotel, now re-branded Hotel Jerome, an Auberge Resort, will balance authenticity and preservation with luxury, ushering in the 19th century landmark to the 21st century. The tony Jerome will reemerge as a hub for Aspen's elite while retaining its historic essence and identity as "the heart of Aspen."
Famed interior designer Todd-Avery Lenahan of TAL-Studio, Las Vegas, has been tapped for the project, along with Aspen-based architects Rowland + Broughton, who will oversee structural improvements. Architect Sarah Broughton, who specializes in historic preservation, sourced archival plans and photos from Aspen's Historic Preservation Commission and conducted more than 200 hours of research to ensure historical accuracy.
"Hotel Jerome is a distinctive American icon and innovator, so we enlisted top design talent to continue its evolution and status as Aspen's fashionable destination," said Eric Calderon, Principal and Chief Operating Officer, Auberge Resorts. "This renovation will honor the historic integrity of the Jerome, while adding layers of craft, detail and luxury that will enhance the guest experience."
The cornerstone of the design update will be the transformation of the hotel's lobby and atrium, which will be returned to its original layout. Heritage pieces such as the front desk and grand fireplace will anchor the space, which will retain original details such as the Indian rug-patterned en-caustic tile-work floor.
The new lobby Living Room will be open, expansive and will invite guests to meet, relax and linger over small plates and drinks from a new bar. This will be a "settle-in kind of room," said Lenahan, "with masculine furniture that lends weight, size and substance. We'll bring in U.S. and European pieces that are contemporary to the Jerome's era and layer them with pieces that give a bit of modern snap."
The hotel's restaurant will be re-envisioned and reintroduced with rich furnishings creating multiple zones of interest in the space, from intimate banquettes to high-visibility tables and window-side seating offering mountain views. Contemporary treatments of traditional furnishings will include chestnut- and cream-colored hardwood flooring, hand-stitched leather chairs and innovative lighting creating sun-infused warmth throughout the day and a sultry ambiance in the evening. The design environment will expertly showcase the traditionally inspired yet contemporary cuisine that is Auberge Resorts' hallmark.
A light touch will be used on the famed J-Bar, Aspen's favorite watering hole, which will retain its treasured Chippendale chinoiserie bar. Rugged leather furniture will ensure the space retains its familiar rough-and-tumble character so loved by the bar's numerous fans.
Guestrooms
Hotel Jerome's 93 guest rooms will receive rich upgrades, from multi-stepped moldings, enhanced lighting and historically inspired furnishings to updated bathrooms and modern-day luxuries. Clever touches, such as a minibar designed as a leather campaign chest, will sit below a leather-writing table, and contemporary artwork commissioned for the hotel by regional artists will hang alongside archival pieces reproduced from Aspen Historical Society collections.
An intimate new Auberge Spa, will be a stylistic departure from the rest of the hotel, with clean lines and contemporary fixtures. Three treatment rooms will offer a range of massages and skincare services tailored for those who enthusiastically engage in the wide array of Aspen Spa and Wellness experiences and outdoor activities.
A landmark in Aspen, the award-winning Hotel Jerome is situated in the heart of town and is often described as the town's "crown jewel." The hotel pioneered new levels of innovation and luxury when it opened in 1889 at the height of Aspen's boomtown silver-mining era and continues to retain its Rocky Mountain character and identity as one of the great hotels of the American West. The hotel features 93 guest rooms offering stunning mountain views and suites. Its restaurants have earned the hotel acclaim as a culinary destination, and its popular J-Bar is lauded as an Aspen favorite. Hotel Jerome was added to the National Register of Historic Places in 1986.
About Auberge Resorts
Auberge Resorts is a collection of exceptional hotels, resorts and private clubs, each with a unique personality that assures a memorable guest experience. While Auberge Resorts nurtures the individuality of each establishment, all are characterized by a set of communal elements: intimate, understated elegance; captivating locations that inspire exceptional cuisine and spa experiences; and gracious yet unobtrusive service. Among the Auberge collection of distinctive properties are: Auberge du Soleil, Calistoga Ranch and Solage Calistoga, all in Napa Valley, Calif.; Esperanza, Cabo San Lucas, Mexico; The Inn at Palmetto Bluff, Bluffton, S.C.; Hotel Jerome, Aspen Colo.; Proghorn Golf Club & Resort, Bend, Oregon; Auberge Residences at Element 52, Telluride, Colo., and the Aspen Club, Aspen, Colo.; with several others currently in development. For more information about Auberge Resorts, please visit http://www.aubergeresorts.com. Follow Auberge Resorts on Facebook at facebook.com/AubergeResorts and on Twitter at @AubergeResorts.