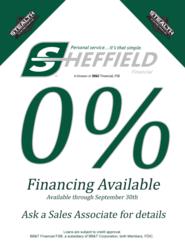 "This ultimately gives our customers a significant financial benefit." - CEO Greg Block
Atlanta, GA (PRWEB) September 05, 2012
Stealth Manufacturing, LLC., a U.S. manufacture of premium electric/hybrid utility vehicles, is proud to announce that they have renewed and expanded their agreement with Sheffield Financial of North Carolina; to provide consumer financing programs through Stealth dealers, available in all 50 states of the USA. The agreement strengthens the relationship between Stealth Manufacturing and Sheffield Financial to meet a mutual commitment to strong customer service and first-class financing programs.
The expanded program begins with a 0% APR financing program for 36months on all qualified 2011/2012 New Night Hawk 64/72 Volt or Night Hawk 72 Volt Hybrid, Commander, Apache and Vector models only and ends on September 30th, 2012. Consumers have the ability to pre-qualify through Stealth's newly designed website at http://www.stealthsidebyside.com or directly through Sheffield's online application process at http://www.sheffieldfinancial.com/customer_section.
Stealth's CEO, Greg Block says "Our continued growth is strengthened through our mutually beneficial partnership with Sheffield. This ultimately gives our customers a significant financial benefit when choosing our vehicles to meet their individual needs." Sheffield's history of superior service with over a million consumers served will continue to add affordable financing options to Stealth's premium utility vehicles for the foreseeable future. These two companies' understand both quality products and a strong financial arm are the keys to meeting the high demands of today's adventurous consumers.
About Sheffield: Clemmons, N.C.- based Sheffield Financial is a division of BB&T Financial, FSB. Sheffield has financed more than $6 billion in loans since its founding in 1992 and currently services more than 30,000 outdoor power equipment, power sports and trailer dealers nationwide. To learn more, visit http://www.sheffieldfinancial.com.
About Stealth: Atlanta, GA – based Stealth Manufacturing, LLC, is a premium electric/hybrid side-by-side vehicle manufacture. Their vehicles are "Made in America" and can be found at local Outdoor and Powersports dealers nationally. To schedule a demonstration and receive personalized service from a local authorized Stealth Dealer start by selecting the dealer locator tab on their website http://www.StealthSideBySide.com. Interested dealers can also request information through the website or contact Stealth Manufacturing directly at 678-293-1050 to receive a new dealer information kit.