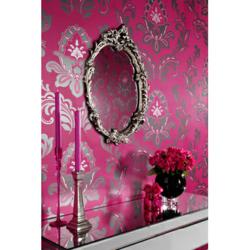 Is wallpaper making a comeback? Yes as FurnitureInFashion is introducing dazzling and exquisite wallpapers for modern and contemporary houses.
(PRWEB UK) 26 September 2012
Is wallpaper making a comeback? Yes as FurnitureInFashion is introducing dazzling and exquisite wallpapers for modern and contemporary houses. The wallpapers have been launched on the online retail store of FurnitureInFashion with detailed and elaborated catalogue. The wallpaper range by FurnitureInFashion is nothing like old dull patterns and colors. The company is offering bold and bright colors with bold patterns to make a modern style statement. The owner and Managing Director of FurnitureInFashion Asad Shamim said, "FurnitureInFashion is offering innovative patterns and designs in wallpapers with much customized approach. Our wallpaper collection is colorful, quirky and chalk full of divine designs to make your home look modern and bold. We are bringing back the wallpaper tradition with much more customization and lavish designs."
FurnitureInFashion is offering different designs, patterns and colors in its wallpaper range. Bijoux wallpaper range comprises of some beautiful designs and colors. Bijoux black and cream wallpaper has black flower design. The printed paper of bijoux has shine for an exquisite look. The standard wallpaper size is 10m roll. Mr. Shamim said, "Bijoux wallpaper in black and cream is ideal for a modern and living room as it settles well with high end living room furniture." Another type of wallpaper in Bijoux range is stylish wallpaper in a teal design. The material use has a shiny surface to bring fresh look to any room. One of the most exquisite wallpaper in the Bijoux range is Hot Pink wallpaper which has a very glossy and exotic pattern along with shining surface of the wallpaper. Mr. Shamim said, "Hot Pink is exotic wallpaper which can best portray emotions of your children, especially girls. Girls normally love to add pink color in their rooms. So hot pink wallpaper is just the kind of thing you might be looking for your daughter."
Another range of wallpaper offered by FurnitureInFashion is Dazzle range. It comprises of Dazzle green wallpaper, Dazzle black wallpaper and Dazzle cream wallpaper. All three of the Dazzle wallpapers have stylish flower designs with glitter and shiny print paper for an exquisite look. Dazzle is a very sophisticated wallpaper range can best settle with dining room and living room. This range can be decorated with furniture having slender structure and contemporary colors. a beautiful wallpaper range offered by FurnitureInFashion is Twilight which comprises of Twilight purple wallpaper, Twilight cream wallpaper and Twilight green wallpaper. All of these wallpapers have very stylish designs with non-woven paper which has a shiny surface for an exquisite look. Mr. Shamim said, "Our Twilight range of wallpapers is ideal for bedrooms as they not only provide contemporary colors but some bold expressions as well and can make style statements in every room"
FurnitureInFashion offers a quirky range of Orion wallpapers. This range comprises of Orion black wallpaper, Orion plum wallpaper and Orion cream wallpaper. The quirky style goes with the modern décor. The wallpaper has a shiny surface and makes a significant impact. A very stylish wallpaper offering by FurnitureInFashion includes Nightfall which comprises of pink and black Nightfall wallpapers. The paper used in this range is flock paper with shine and extremely beautiful designs. Aquarius wallpaper range is available in mocha design with vinyl paper for an exquisite look. Last but not the least, the Sundown range is available in beautiful colors with beaded paper and a shiny surface.
The wallpaper ranges have been manufactured from extremely durable materials and are available at affordable prices.
About FurnitureInFashion
FurnitureInFashion is a UK based online retail business. It supplies furniture items from its German based warehouse and has a showroom in Bolton, UK. The company provides everything from umbrella stand wall art and room dividers to bedroom, bar stools and computer tables. FurnitureInFashion offers excellent free delivery within UK and has a fantastic customer service as well. For further information and details about the sale, visit http://www.furnitureinfashion.net