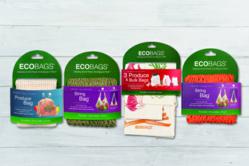 The Market Collection is an answer to what retailers and shoppers want; a wider more eco-friendly selection of easy to find quality, reusable grocery and produce bags.
Westchester County, NY (PRWEB) September 06, 2012
The ECOBAGS® Market Collection, a responsibly manufactured assortment of reusable grocery bags and reusable produce bags, is now available wholesale to retailers nationwide. Consumers will now be able to easily find ECOBAGS® reusable bags in colorful, attention-getting, sustainably designed packaging at their favorite stores, natural product and grocery stores.
The Market Collection features the ECOBAGS® Bulk and Produce bags in GOTS Certified Organic and Natural Cottons and, the iconic ECOBAGS® Classic String Bags™, that easily expand and collapse for quick storage, in a fashionable assortment of colors for shopping and everyday use. The collection is 100% reusable, washable and recyclable. Plastic Bag bans are being adopted and considered nationwide, like California's AB298. Consumers want alternatives to single-use plastics.
How does a company whose mantra is to reduce waste introduce packaged products? "Thoughtfully, with an eye on elegant simplicity and minimal environmental impact," says Sharon Rowe, Founder & CEO of Eco-Bags Products, Inc. "Our retailers asked us to expand our line. We knew we needed to package the bags for better in-store display but we were unwilling to compromise our core value of creating no waste."
The Market Collection packaging, designed by NY-based Creative Director Carlos Torres is sleek, minimal, sturdy and 100% recyclable. It uses FSC Certified paper and contains zero plastics so no waste is created. Each package carries the ECOBAGS brand message, encouraging shoppers to take action and participate in "cleaning up the planet one bag at time™."
Resellers can contact Eco-Bags directly to order reusable bags wholesale or shop online through the wholesale portal. Consumers can find The ECOBAGS® Market Collection™ in stores nationally or shop online for the bags, without the retail packaging.
The ECOBAGS® Market Collection is manufactured in a socially responsible facility that is SA8000 certified. Eco-Bags Products, Inc. is a Certified B Corporation with a triple+ bottom line: People, Planet, Profits…and Passion.
###
Eco-Bags Products, Inc. founded in 1989, is recognized as pioneers of the reusable bag movement. The 22 year old company manufactures socially and sustainably produced products that help people reduce, re-use, recycle and re-imagine a more sustainable world.