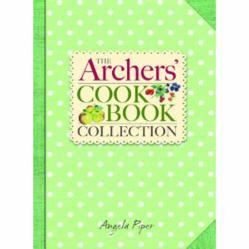 The Archers is the most popular BBC on-demand download.
(PRWEB UK) 6 September 2012
Jennifer Aldridge, long-time resident of Ambridge, shares some of her most famous seasonal recipes which have entertained the residents of Home Farm for many years. Picture the seasons in Ambridge with these tantalising recipes, and soak up the feel of the village through its alluring romas and irresistible treats, From Bert's Potager's Pot to Bombe Surprise with Apricot Sauce and Almond Praline, there are 300 tantalising recipes to enjoy in this wonderful edition of the seasonal tours of the kitchens of Ambridge.
Written with great affection and accuracy by Jennifer Aldridge, aka Angela Piper, one of The Archers' longest standing characters. The set contains the successful Jennifer Aldridge's Archers' Cookbook and Archers' Country Kitchen, in one stylish slipcase and makes a great gift.
The Archers has a regular listenership of almost 5 million every week and is the most popular BBC on-demand download. Angela Piper has played Jennfier Aldridge in The Archers for over 40 years. Here she brings together her love and knowledge of the radio show with her skill in the kitchen. Her other titlesinclude Jennifer Aldridge's Archers' Cookbook (David & Charles, 1994) and The Archers' Pantry (Ebury, 1997). Angela lives near Felsted, Essex.
The Archer's Cookbook Collection is published by David and Charles in September 2012. Price £14.99. ISBN: 9781446302521. To get your review copy, or to interview Angela Piper, contact Sandra Gilmore sandra(dot)gilmore(at)fwmedia(dot)com