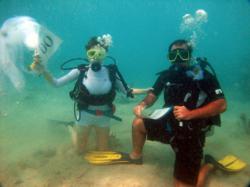 Hotel Viking, which reported a 40% increase in elopements last year, offers a two-night Elopement Package which includes use of Kay Chapel, the ceremony, dinner, massages, champagne and more, for just $3200.
(PRWEB) September 05, 2012
From the first date to setting the date, finding the perfect location for memorable events can be challenging. One thing is certain – destination weddings continue to allure brides and grooms. From taking the plunge with an underwater wedding to saying "I Do" in a historic chapel, hotels from Rhode Island to the Caribbean Islands make tying the knot easy, fun, and affordable.
"More than 24% of weddings are held out-of-town, making destination weddings more popular than ever," said Marilyn Cairo of AskMeInc.com which manages destination wedding services for resorts, "Destination weddings tend to be more affordable than traditional weddings and combined with great deals, it makes a wedding away irresistible."
Cairo reports that Paradisus Punta Cana in the Dominican Republic is offering a savings of $1000 on their popular Aqua Wedding package which includes the wedding ceremony, a one (1) hour cocktail reception, a three (3) hour private sit-down dinner reception for up to 24 guests, and special amenities for the bridal couple. The full support of the Romance Team is included to help couples design, plan and execute all the wedding details to perfection. The Aqua Wedding package is $4,000 in January, February, September, October and December 1-22, 2013 only. For more information call AskMeInc at 305-665-9460.
"Coconut Bay Resort in St. Lucia offers multiple wedding packages from free to phenomenal," says Cairo, "The Platinum Wedding Package includes a free two-night stay when the couple returns for their anniversary. Perks like this add up to great savings."
Another option gaining popularity amongst the engaged set are elopements. Exceptional wedding and honeymoon opportunities at a fraction of the cost of traditional weddings, elopements offer a savvy way to say I do. Coconut Bay Resort in St. Lucia makes it easy for an elopement getaway with complete wedding packages offering everything needed from witnesses to wedding cake.
Hotel Viking in Newport, RI and Montauk Yacht Club in the Hamptons also offer elopement getaways. Hotel Viking, which reported a 40% increase in elopements last year, offers a two-night Elopement Package which includes use of Kay Chapel, the ceremony, dinner, massages, champagne and more, for just $3200.
Since same sex marriage is legal in the state of New York, Montauk Yacht Club's "At Last" elopement getaway caters specifically to the GLBT market. "At Last" includes: three nights in a waterfront suite, a judge or Notary Public to officiate, two hours of photography, dinner for two with a champagne toast at Gulf Coast Kitchen and breakfast in bed the following morning.
The Villas of Grand Cypress in Orlando has another way to save on the big day: weekday weddings. This legendary golf resort, located in the Lake Buena Vista area, offers a weekday wedding for thirty guests for just $3000. The intimate affair includes ceremony space on Nine18's spacious front lawn, seating, officiant, flowers for bride and groom, violinist for ceremony and mini reception; one hour of photography; one hour of videography; champagne toast, cake and cake service for thirty guests and on-site coordinator. Now that's a deal.
For more of a wedding day splash Hotel Caravelle offers an underwater wedding package. Located on St. Croix, US Virgin Islands, where no passport is required for US residents, Hotel Caravelle's Wet Wedding is a full service package, which includes dive gear, minister, a three-night stay and more is just $1299 now though December 14, 2012. The marriage license ($100) is additional. For more information call Hotel Caravelle at (800) 524-0410 or visit HotelCaravelle.com.
If you prefer to be on top of the water rather than under the water, Lemon Tree Inn along with Sweet Liberty catamaran charters, both located in the seaside town of Naples, Florida, are offering a "Sail Away" wedding package that features three nights at Lemon Tree Inn, and a wedding ceremony aboard Sweet Liberty. The package rate is $440 for two people now through December 14, 2012. Each additional guest aboard the boat is $32. Taxes and gratuities are additional. Couples wanting to book the entire boat, which can accommodate up to 40 guests, is $1160 which includes taxes and gratuities. To book the package, call Lemon Tree Inn at 888-800-LEMO or visit LemonTreeInn.com.