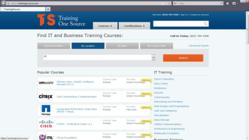 Training1Source has partnered with leading firms to offer the top certifications in the industry, including certifications for VMware, ITIL, Project Management, CompTia and more.
Raleigh, North Carolina (PRWEB) September 05, 2012
It's Back to School season and children aren't the only ones headed back to the classroom. As companies continue to depend on information technology for growing their bottom line, professional training courses and certifications for highly trained IT teams and business specialists are in top demand. Employees and employers face the challenge of keeping technical skills not just current, but cutting edge. Today, U.S.-based Training1Source http://www.training1source.com launches its e-commerce website to serve as the industry's comprehensive one-stop-shop for career-minded IT and business professionals and the employers that hire them. For a limited time, clients who sign up for select courses will receive a free Apple® -The New iPad® for choosing Training1Source as their preferred training solution.
Training1Source.com is an easy-to-navigate e-commerce site offering the most in-demand, authorized IT vendors and business skills training courses for professionals throughout the U.S. and beyond. Vendor partners offering courses on the site include Cisco, Microsoft, VMware, Citrix, NetApp, among many others. Training1Source has also partnered with leading firms to offer the top certifications in the industry, including certifications for VMware, ITIL, Project Management, CompTia and more.
Courses are offered on location throughout the U.S. and online and can be easily searched by vendor, technology specialty, certification type or training provider. Courses can be purchased for an individual or for large groups for ease of planning, convenience and management.
The Training1Source website provides:
*User Friendly format: Quick, better quality results for online and on-location authorized
training/certification courses nationwide
*Better value: Find comprehensive solutions in one place without the hassle
*Personal attention: Speak directly to Training1Source Educational Team members
by phone 855.704.4300 or email at info(at)training1source(dot)com
*Expertise: Get savvy insights to the best courses for each need
*Individual and group training packages
*High Quality, High End Training Solutions: Trusted training for authorized Vendor, IT,
Information management needs at every level

Variety of training options: Virtual learning as well as mentor-based courses
Founded by a specialized team of IT sales and education specialists with firsthand knowledge of the typically time-consuming process of researching and securing IT training, Training1Source provides full service search, payment and course management options, so clients have more time for what they do best. As part of its relationship with clients, Training1Source will provide ongoing technology training updates and news developments to ensure cutting edge results.
About Training1Source
Training1Source was founded by a team of specialized IT sales and education professionals to simplify the search process for personal and professional IT training needs. The private, woman-owned company has partnered with hundreds of the very best companies in the software and technology industries to provide the top authorized products and solutions from the professional sources professionals trust. For an easy to navigate, personal and savvy approach to IT training and certification, visit http://www.training1source.com or call 855.704.4300.