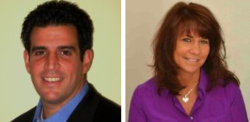 Boca Raton, FL (PRWEB) September 05, 2012
Datamyx, one of the leading consumer data and technology solution providers for direct marketers, today announced the appointment of two industry veterans to the position of Business Development Director for the company's growing automotive division, Michael Mallozzi and Kristen Clark. Working as a team, Mallozzi and Clark will spearhead Datamyx's expansion efforts within the automotive industry.
Mallozzi joins Datamyx with nearly two decades of experience in the marketing information services arena. He spent the bulk of his career in leadership roles at both TransUnion and DealerTrack, developing strategic relationships with key constituencies across the credit, financial services and automotive sectors. Mallozzi has cultivated both an in-depth understanding of credit-based information solutions as well as strategic insights into the inner working of the auto financing process. This uniquely positions him to help Datamyx expand their footprint in the automotive vertical.
Kristen Clark brings over a decade of experience selling and consulting in the automotive industry. She has worked for two of the industry's largest consumer and automotive data providers, Acxiom and R.L. Polk & Company, consulting top marketers on their targeting strategies for acquisition and retention. Clark is uniquely positioned to leverage insights of key marketers at the OEM, regional and dealer level to help drive Datamyx's future product offerings.
Tom Miller, Senior Vice President of Sales, said, "We are very excited to have both Michael and Kristen join our team, particularly given their in-depth of experience in the automotive, direct marketing and lending industries. Their combination of insights and acumen, coupled with Datamyx's unique value proposition in this vertical, makes us that much more powerful of a business partner to our customers in the automotive industry."
Datamyx is the premier provider of data-driven technology solutions for the marketing industry.
As a sole source of tri-bureau credit marketing data in the country, Datamyx helps its clients achieve record-breaking results from their marketing campaigns by leveraging actionable insights in order to drive greater ROI. Datamyx works with the nation's leading organizations in the banking, credit union, mortgage and automotive industries to intelligently connect the right people to the right products, at the right time.
Datamyx's Auto Mart combines year, make and model consumer vehicle data with consumer risk models from all three major credit bureaus to help automotive marketers improve their targeting and marketing ROI.