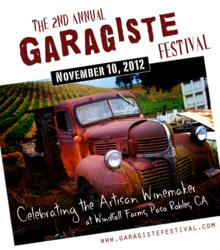 Paso Robles, CA (PRWEB) September 06, 2012
The Garagiste Festival, the first and only festival dedicated to promoting artisan 'garagiste*' winemakers, today announced a world-class winemaker – and varietal – line-up for its popular tasting seminars, held as part of the second annual event on November 10th at beautiful Windfall Farms. The 2012 Festival, which showcases high-quality, cutting-edge, small production wineries that produce fewer than 1,200 cases a year, comprises four days of tastings and events during Garagiste Festival weekend November 8th, 9th, 10th and 11th in Paso Robles. Named one of the 'Top Nine Incredible Epicurean Vacations' in the world by ABC News,* the non-profit festival benefits the Cal Poly Wine and Viticulture Program.
This year's seminars, headlined by award-winning Santa Ynez winemaker Andrew Murray, who was named "one of the shining stars in the Santa Barbara firmament" by Robert Parker, offer a deep exploration of Syrah, one of the most underrated and age-worthy varietals, from winemakers who have been in the trenches with the grape literally and figuratively for years. The seminars will also provide a look at, and taste of, the tip of the spear of some of the fast-emerging varietals grown in the diverse microclimates of the Central Coast: Albarino, Carignane, Grenache Blanc and Petite Sirah – from the groundbreaking garagiste winemakers who are championing them.
"Last year's seminars were SRO because of their combination of nationally renowned winemaking talent, great tasting and new take-home knowledge. This year is no different as we bring in the experts to provide aspiring winemakers and passionate wine lovers with a fresh look at the much-maligned Syrah, a varietal that we believe deserves a lot more attention (and a lot more tasting!) – as well as an exploration of some of the most exciting, if lesser known varietals, that are being made into extraordinary wines by garagiste winemakers all over California," said Garagiste Festival Co-founder Douglas Minnick.
The interactive tasting seminars will be held prior to the public tasting between 11:00AM and 1:15PM on November 10th, and are designed to provide attendees with an intimate and informal opportunity to meet and learn from some of the best, most innovative winemakers in the world. The festival has doubled capacity for this year's seminars, which were completely sold out in 2011.
Minnick pointed out that because garagistes make wines in smaller quantities and are not restricted by the boundaries ruling many larger wineries - many of whose budget versions of Syrah have mass-produced the quality, nuance and respect right out of it - they are able to show what this grape is capable of. And the same holds true for the under-the-radar varietals also featured in the seminars, most of which have generally been used mainly as blending grapes. Because these artisan winemakers have been focusing on these varietals in their own right– and showcasing all they have to offer – they are emerging as some of the most distinguished and exciting wines available anywhere.
The 2012 Garagiste Festival Tasting Seminars
SEMINAR 1 – Saturday, November 10th 11:00 am – noon
Digging Deep Into Syrah: Microclimates, Terroir and Stylistic Decisions
Andrew Murray ('One of the most fearsome talents in food and wine') leads a panel of Syrah specialists that also includes award-winning winemaker, Justin Kahler of JK Wine Company, who makes Syrahs from three distinct vineyards in CA and OR.
Murray, whose eponymous winery, Andrew Murray Vineyards, is based in Santa Ynez, is passionate about Syrah: 'I am proud to shout from the rooftops that I stuck with my first love, Syrah.' Like Murray, Kahler has a special love for Syrah and has earned a reputation as one of the young winemaking stars in the Paso Robles area. With San Luis Obispo having the largest vineyard area planted to the grape and the Paso AVA producing the most wines using it, Syrah has become the go-to-grape variety for Central Coast garagistes. To demonstrate how astounding this grape can be, the panel will take attendees on a unique tasting exploration of the varietal, illuminating its diversity, intensity and quality.
SEMINAR 2 – Saturday, November 10th 12:15-1:15pm
A Taste of Emerging Varietals
This panel of four innovative garagiste winemakers showcases some of the latest 'breakaway' grapes making waves throughout California.

Albarino: Alan Kinne, winemaker for Bodegas M, whose wines reflect the spirit and tradition of the great Tempranillo and Albarino wines of Spain, will pour and share his experience with Albarino, a grape originally sourced from the Riax Biaxas region in Northwestern Spain that is rapidly growing in popularity with innovative winemakers, particularly in Paso Robles.
Carginane: Amy Butler, winemaker and owner of Paso Robles Ranchero Cellars, which is committed to making small batches of wine using unique varietals and time-honored methods, will pour and discuss Carignane. Butler is one of a handful of winemakers taming (but not completely) this unusual grape, which has a reputation as a "wild and uncivilized' variety, into the bottle.
Grenache Blanc: William Allen, owner/winemaker of Two Shepherds Vineyards, a winery dedicated to making wines that "shepherd" grapes gently into non-manipulated and balanced old world style wines, will take on Grenache Blanc, a Rhone mostly used for blending – and a varietal that Allen is dedicated to featuring as a stand alone. Allen's Grenache Blanc was named one of the top picks for this varietal by the San Francisco Chronicle.
Petite Sirah: Aaron Jackson of Paso Robles' Aaron Wines, will take attendees on an exploration of Petite Sirah, a varietal with an over 100 year history in California and which has been a staple of some of the most famous wines made in California. Petite Sirah is Jackson's passion as reflected in his winery's number one goal: to produce stellar Petite Sirah from superior Paso Robles vineyards.
'Taste of Garagiste' Monthly Mini-Tastings:
The 2012 festival also continues to add to its series of sneak preview tastings held from Paso Robles to Southern California leading up to Garagiste Festival weekend.

September 8th - 9th: Lake Tahoe Food and Wine, Taste of Garagiste Event (includes overview lecture on Paso region). Garagistes to be poured include: Bodega M, de Edgar, Ranchero Cellars, Stanger, Thomas Alexander, Alta Colina and Paso Port
September 12th: L'Ermitage Hotel, Beverly Hills 'Taste of Garagiste' event features Garagiste's Karissa Kruse from Argot Wines (Sonoma County), Nikki Nelson from Liquid Farm (Sta. Rita Hills) and Victor Abascal from Vines on the Marycrest (Paso Robles).
November 3rd: "Taste of Garagiste: The Women of Garagiste," 15 C Wine Shop, Templeton, Ca.
CLICK HERE FOR THE FULL FESTIVAL LINE UP
The Garagistes
Artisan winemakers already slated to showcase their wines at the 2012 Garagiste Festival include Aaron Wines, Alta Colina Vineyards, Ambyth Estate, Anglim Winery, Argot Wines, Barton Family, Bodega de Edgar, Bodegas M, Bon Niche Cellars, Caliza Winery, Cayucos Cellars, Center of Effort, Changala Winery, Cloak and Dagger Wines, Cutruzzola Vineyards, Edmond August Wines, Filipponi Ranch Cellars, Giornata, Ground Effect Wines, Henson Wines, J Dusi, Jacob Toft, JK Wine Company, Kaleidos Winery, La Filice, Les Deux Chats, Liquid Farm, Luminesce, Nicora, Paix Sur Terre, Paso Port Wines, Per Cazo Cellars, Pipestone Vineyards, Ranchero Cellars, Rangeland Wines, Red Zeppelin Winery, Rendarrio Vineyards, Sinor La Valee, St. Hilaire, Stage Left Cellars, STANGER Vineyards, Thomas Alexander Wines, Two Shepherds, Vin Alegre, Vines on the Marycrest, Von Holt Wines, Westberg Cellars and Zin Alley.
Last year's festival sold out and the 2012 festival is expected to sell out early. To buy tickets go to http://garagistefestival.com. To be alerted for breaking news about additional Garagiste events, to learn more about The Garagiste Festival, and to get the latest event info, sign-up for The Dirt at http://garagistefestival.com/sign-up/. Or follow us on Twitter (@PasoGaragiste).
Sponsors for the 2012 Garagiste Festival include: Clever Concepts, Central Coast Tent and Party, 15c Wine Shop & Bar, Glenn Burdette, Kirk Consulting, Tasting Panel Magazine and mWEBB Communications.
For sponsorship opportunities, contact doug(at)pasogaragiste(dot)com or go to http://www.garagistefestival.com.
*Garagistes (gar-uh-zhē-stuh) is a term originally used in the Bordeaux region of France to denigrate renegade small-lot wine makers, sometimes working in their "garages" (anything considered not a chateau), who refused to follow the "rules," and is now a full-fledged movement responsible for making some of the best wine in the world. Click here for more info and proper 'garagiste' pronunciation: http://www.garagistefestival.com/.
**ABC News Online, May 31, 2012: http://abcnews.go.com/Travel/amazing-foodie-adventures/story?id=16466702#8
About The Garagiste Festival
The Garagiste Festival (http://www.garagistefestival.com) is the first and only wine festival dedicated to the undiscovered and under-recognized artisan 'garagiste' producers who are making some of the best, most exciting, handcrafted small-lot production wines in the world. The Garagiste Festival was named one of the "Top Nine Incredible Epicurean Vacations" by ABC News. Founded by fellow garagistes Stewart McLennan and Douglas Minnick, the Garagiste Festival is committed to fostering the spirit of free exchange of ideas and encouragement that has made Paso Robles one of the friendliest, most successful and innovative wine-making communities in the world. The festival is produced by Garagiste Events, a non-profit dedicated to furthering the education of future winemakers and those training for employment within the wine industry. Proceeds from 2011's sold-out festival were donated to the Cal Poly Wine and Viticulture Program.
Media Contact:
mWEBB Communications for The Garagiste Festival
Melanie Webber, melanie(at)mwebbcom(dot)com, (424) 603-4340
Crystal Hartwell, crystal(at)mwebbcom(dot)com, (714) 987-1016