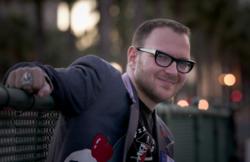 St. Louis, MO (PRWEB) September 05, 2012
The St. Louis County Library Foundation and Pudd'nHead Books are pleased to present a Reading Garden Event Series program with breakout young adult science fiction author Cory Doctorow, who will discuss his new book "Pirate Cinema." The event will be on Tuesday, October 2 at 7:00 pm at Library Headquarters, 1640 S. Lindbergh Blvd.
The program is free and open to the public. Books will be available for purchase at the event from Pudd'nHead Books.
From the author of the teen sensation "Little Brother,' "Pirate Cinema" is an edgy science fiction thriller set in a near-future dystopia where Internet pirating is severely punished.
Trent McCauley is sixteen, brilliant, and obsessed with one thing: making movies on his computer by sampling and reassembling footage he downloads from the net. Internet pirating is now more illegal than ever; the punishment for being caught three times is that your entire household is cut off from the Internet for a year, with no appeal.
This won't happen to Trent; he's too clever. Except it does, and it nearly destroys his family – his father's living, his mother's health, and his kid sister's studies all depend on net access.
Shamed and shattered, Trent runs away to London, where he learns the ways of staying alive on the streets while retaining your self-respect. This brings him in touch with the city's always-rambunctious street scene—a demimonde of artists and activists who are trying to fight a new bill that will criminalize digital copying even more harmless than Trent's, making millions of people felons at a stroke.
Things look bad. The government is in the grip of a few wealthy media conglomerates. But the powers-that-be haven't entirely reckoned on the power of a movie to change people's minds.
Cory Doctorow (craphound.com) is a science fiction author, activist, journalist and blogger. He is the co-editor of Boing Boing (boingboing.net) and the author of the popular teen novels "Little Brother" and "For the Win."
St. Louis County Library Foundation's Reading Garden Event Series hosts free family events with authors and musicians. Sponsors include Commerce Bank, Companion, and the Sara Guth Costigan Memorial Fund.
Program sites are accessible. Upon two weeks notice, accommodations will be made for persons with disabilities. Contact St. Louis County Library by phone 314-994-3300 or visit http://www.slcl.org.