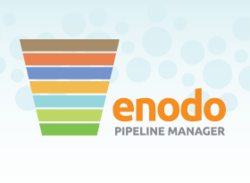 Seattle, WA (PRWEB) September 06, 2012
Enodo Software, a provider of Marketing Performance Management software, introduced Enodo Pipeline Manager™, a native Salesforce.com application that enables sales and marketing teams to effortlessly analyze, track and manage their sales pipeline metrics. Enodo Pipeline Manager seamlessly installs into any Salesforce.com instance to drive increased sales, faster sales velocity and improved business planning based on a deep understanding of sales operations performance. Enodo Pipeline Manager will be demonstrated at Dreamforce12 at booth 33 from September 18-21, 2012.
Sales managers don't typically have the depth of insight into pipeline performance to reliably plan for future quarter needs or manage early pipeline growth efforts. For most, estimating future pipeline needs is largely based on inaccurate guesswork. Too often, they rely on industry averages such as "3x pipeline coverage." These challenges are compounded by the fact that sales operations performance and pipeline growth is usually only analyzed after the team has missed their sales targets. This retroactive process makes it difficult for sales managers to fix issues before they become sales problems.
Using Enodo Pipeline Manager, sales managers can easily analyze pipeline growth, conversion rates, deal velocity and volume across common segmentation categories such as product lines, customer size, geography, in order to manage performance before issues become problems. Additionally, sales managers can focus teams on those opportunities most likely to close, driving an increase in sales.
"Enodo Pipeline Manager is an essential tool for sales managers. Better visibility into the early stages of the pipeline helps us plan our business better and increase our ability to hit sales targets," says Josh Harbert, CMO, Front Flip. "Enodo Software makes it easy. It is quick to install, seamlessly integrates with existing Salesforce data and saves time compared to analyzing data in spreadsheets or complex BI solutions."
Enodo Pipeline Manager is a cloud-based solution that installs natively into the Salesforce.com platform. This approach alleviates the need for third party data warehouse solutions and ensures that a customer's critical sales data never leaves the Salesforce.com environment. Enodo Pipeline Manager presents a holistic view of pipeline performance providing a closed-loop process to Analyze, Plan and Manage for continual process improvement.
Enodo Pipeline Manager includes:

Out-of-the box analysis of both current and historical opportunities across key performance metrics such as conversion rates, velocity, volume and amount.
Deep drill-down analysis into individual stage performance
Pipeline Growth goal planning based on future sales targets and historical performance
Collaborative Goal tracking for regular management of sales teams to pipeline goals
Intuitive, easy-to-use native Salesforce.com application to eliminate time consuming analysis and keep you focused on managing the sales process
"Companies that proactively analyze and manage pipeline growth have shown a 10% annual increase in closed sales compared to other companies, and 9% increase in deal size. Too often sales is stuck in reactive mode, desperately trying to close everything in order to make quota. More attention paid to developing a healthy pipeline will go a long way to increasing sales," says Jeff Day, CEO of Enodo Software. "Enodo Pipeline Manager gives Sales and Marketing managers an easy and efficient way to understand and manage pipeline performance, thereby increasing revenue and improving sales team performance."
Enodo Pipeline Manager is available through the AppExchange. A full-featured free trial of Enodo Pipeline Manager is available from the AppExchange.
About Enodo Software
Enodo Software is a revolutionary Marketing Performance Management software company whose vision is to provide simple, efficient analytics solutions to help increase performance of the entire "First touch to Customer for Life" process. Enodo helps Marketing and Sales managers deeply understand the performance of marketing and sales operations, in order to improve under-performing areas, plan and allocate resources more effectively and manage the process with real-time dashboards. Enodo is designed with the mindset of "giving time back" to sales and marketing managers, by eliminating complex and inefficient analysis processes or tools. Pipeline Manager, Enodo's flagship product, is a native Salesforce.com application. Try the Free Trial of Enodo Pipeline Manager today. For more information, visit Enodo's website or subscribe to the Blog.