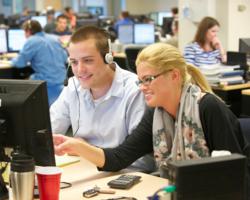 Chicago, IL (PRWEB) September 05, 2012
AFN an award-winning logistics and supply chain company, has released its fall schedule for on-campus interviews and information sessions for open positions. The company, which is located in the Chicago suburb of Niles, Illinois, plans to add over 100 employees in the next 12 months. To help fill these positions, AFN is actively recruiting new and recent college graduates from colleges and universities in the Midwest, including University of Iowa, Indiana University, Miami University (Ohio), Bradley University, DePaul, and Northern Illinois University. A complete list of the career fairs and interview sessions can be found on the AFN website.
AFN is hiring for multiple entry-level positions in the rapidly growing field of logistics and supply chain management. The company currently counts eight of the top 10 retailers as clients and has won numerous awards within the industry and as an employer. "We've built a great corporate culture where recent college grads are given the tools and the training to succeed in a growing industry. In addition to an above average salary and benefits package, we offer a work environment that's fun, challenging and rewarding," said Kira Meinzer, Vice President of Human Resources.
Interested candidates can view position descriptions on AFN's website and/or sign up online for the sessions through their university's career services centers.
About AFN
Serving motor carriers, manufacturers and retailers since 2003, AFN (formerly known as Advantage Freight Network) is an award-winning leader in freight brokerage, third party logistics and transportation management services. Currently, AFN counts 8 of the 10 largest retailers among its clients. We are known for our commitment to client service, our proactive approach to fighting cargo theft and our expertise in retail compliance.
To learn more about AFN, visit http://www.loadafn.com or call 877-LOAD-AFN.