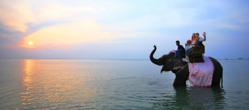 The September 1 issue of Travel-Intel notes that American travelers seek "worth it" experiences, and are willing to spend a little more for it.
San Francisco, CA (PRWEB) September 05, 2012
New research shows Americans are headed back on the road, making solid travel plans and spending money on vacations, despite shaky economic times. Tours.com's Travel-Intel follows the money, looking at a survey of 2,527 U.S. households that reveals what Americans want in a travel experience.
The September 1 issue of Travel-Intel notes that American travelers seek "worth it" experiences, and are willing to spend a little more for it, according to an MMGY Global/Harrison Group 2012 Portrait of American Travelers report released recently. The survey reports the average amount spent on vacations over the last 12 months has increased to $4,461, compared to $3,874 during the same 12 months two years ago.
This issue of Travel-Intel, a leading news source for the travel industry, also looks at the vacations Americans are not taking. In an article about the "Vanishing Vacation," the travel publication reports that workers with annual vacation benefits leave an average of 11 vacation days on the table. The newsletter also examines which cities are the worst offenders for harboring workaholics who forfeit their vacation days.
In the same issue, readers can get a glimpse of the China they might not see on a regular tour. An article about WildChina, a progressive company that specializes in deep experiential visits to China, notes how kungfu lessons with Shaolin monks and hiking the highlands in search of wild pandas are not usually on most tour company menus. WildChina is a member of the Kurtz-Alhers & Associates' collection of exclusive travel products.
Also included are articles about how Egypt is opening up the lower Nile to river cruises after 18 years. Visitors to Egypt will be able to sail from Cairo rather then Luxor by early 2013. And finally, a food and wine fest in Napa Valley in November is packaging with key area resorts for a heady, flavorful celebration of the good life. Travel-Intel delivers the deals.
Travel-Intel tracks trends in travel and is sent bi-weekly to 100,000 travel agents in North America. The articles in Travel-Intel are written by experienced journalists who scour the globe for the latest news in destinations and transport. The travel publication then posts on Tours.com for those seeking answers through Tours.com's official directory of tour companies and travel information.
Current features and archives can be viewed at http://www.travel-intel.com.
"Both those who sell travel and those who do the traveling require active and ready information at all times. The world of travel can be a complicated landscape," says Lark Ellen Gould, content director for Travel-Intel and Tours.com. "We look at airlines, cruise lines, hotels and vacation destinations to keep our readers current with what they need to know about travel."
Gould, a veteran travel journalist who has been covering the travel industry for more than 20 years, brings her incisive perspective to the publication and emails it on the 1st and 15th of each month to more than 100,000 travel agent subscribers in the U.S. and Canada, before posting those stories on Tours.com.
Tours.com is the worldwide directory of travel. As the most comprehensive tour and travel directory out there Tours.com has been operating since 1995 with a deep and searchable database of tours and tour companies according to company, region and experience. Tours.com features of directory 8,000 tour companies around the world. It is also a one-stop resource for visa information, important phone numbers for travelers, regional experts, and travel agents certified with in-depth knowledge in their chosen areas.
For more information visit http://www.tours.com.
Tours.com
Press Contact: Maria Polk
maria(at)tours(dot)com