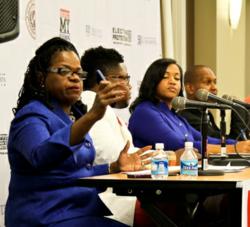 "Young people ... have a lot at stake when it comes to access to the polls, just like other traditionally disenfranchised groups such as low-income, people with disabilities, and minority persons."
- Lawyers' Committee's Barbara Arnwine
Charlotte, NC (PRWEB) September 04, 2012
On September 2nd, the Respect My Vote! Town Hall drew out an impressive crowd of young voters to learn about tools and tactics to protect their vote and organize their communities to turn out in the November elections. Young people in the audience voiced as their top concerns in this election, job opportunities and the economy, access to quality education and schools, and environmental degradation.
The national, nonpartisan conveners, Lawyers' Committee for Civil Rights Under Law, Election Protection Coalition, Hip Hop Caucus, BET Networks, and the Charlotte School of Law, hosted this Town Hall in Charlotte, NC between the RNC and the DNC Conventions, to put forth a strong message that young voters, voters of color, and others including elderly and disabled persons, who are being targeted by voter suppression efforts in important electoral states, will not be deterred from the polls.
The event was also live-streamed to thousands around the country at http://www.livestream.com/hiphopcaucus, and online viewers asked questions via twitter using the hashtag #RespectMyVote. The event coverage will remain posted online for those who missed it live.
"Young people, like those at our Town Hall, have a lot at stake when it comes to access to the polls, just like other traditionally disenfranchised groups such as low-income, people with disabilities, and minority persons," said Barbara Arnwine, president and executive director of the Lawyers' Committee for Civil Rights Under Law. "Election Protection and the Lawyers' Committee continue to educate voters about their rights and arm them with resources and tools to ensure that their voices on the issues they care about are heard this November at the ballot box."
Respect My Vote! (http://www.respectmyvote.com) is a nonpartisan voter registration, education, and get out the vote campaign that targets 18 – 40 year olds in urban communities. The campaign includes a national coalition led by the Hip Hop Caucus. Hip Hop Caucus partnered with the Election Protection Coalition (http://www.866ourvote.org) and the Lawyers' Committee to host today's Town Hall in order to disseminate voter protection tactics that young voters can use in their communities.
"Young voters got the information, the tools, and the grassroots resources needed to protect their votes. When young people are informed of injustices, like discriminatory voter suppression laws, they are the first to stand up and they want to be heard," said Rev. Lennox Yearwood Jr., president and CEO of the Hip Hop Caucus. "I have no doubt that young voters will turn out this November as long as we and other pro-democracy groups continue educating and organizing."
Sonya Locket, vice-president, Corporate Social Responsibility of BET Networks and executive director of BET Foundation said, "BET's Vote 2012 campaign is thrilled to be working with Respect My Vote! and Election Protection because together we can reach millions of young people with critical voting information via our online and social media platforms as well as our television programming. BET is passionate about getting important information like this to our audiences because we know it will make them more effective citizens."
The Town Hall was moderated by Rev. Lennox Yearwood Jr.; speakers included Barbara Arnwine; Kevin Powell, nationally renowned activist, writer, and speaker; Big Mike, Recording Artist of the group Day 26, formed by P. Diddy; Carrie Cook, local community activist and founder of the Youth EmpowHERment movement providing opportunities for teens and girls. The event was hosted by Nolimit Larry host of The Nolimit Larry & The Morning Maddhouse show on CBS Radio's WPEG Power 98 in Charlotte. Charlotte-based Recording Artists Bettie Grind and Mr. 704, along with A Dot, hosted the Live-stream, and spoken word poet Bluz opened the program with a poem entitled "Respect My Vote!"
"Among all the activities happening in Charlotte surrounding the DNC Convention, it was important that at our Respect My Vote! Town Hall, we heard real talk, and we got real information to young people who are going to keep talking about it," said Nolimit Larry, host of The Nolimit Larry & The Morning Maddhouse show on CBS Radio's WPEG Power 98, and a member of the Hip Hop Caucus Charlotte Leadership Committee. "As a voice of the airwaves here in Charlotte, I know folks will be continuing the dialogue that was sparked during this event all the way through Election Day."
The Respect My Vote! Town Hall was a nonpartisan event, not affiliated or supporting any political party or candidate.
*Note: Lawyers' Committee President and Executive Director Barbara Arnwine also participated as a "Power of the Sister Vote" nonpartisan dialogue series panelist during the Republican National Convention hosted by The National Coalition on Black Civic Participation's (NCBCP) Black Women's Roundtable.
###
About the Hip Hop Caucus: Formed in 2004, the Hip Hop Caucus (HHC) is a non-profit, non-partisan organization that leverages Hip Hop culture to encourage young people to participate in the democratic process. Through a collaborative leadership network, HHC addresses core issues affecting underserved communities. HHC programs and campaigns support solution-driven community organizing led by today's young leaders.
About Election Protection: Election Protection is the nation's largest nonpartisan voter protection coalition, led by the Lawyers' Committee for Civil Rights Under Law. Through its 1-866-OUR-VOTE hotline (1-866-687-8683), smartphone application and other resources, and dedicated team of legal experts and trained volunteers, Election Protection helps all American voters, including traditionally disenfranchised groups, gain access to the polls and overcome obstacles to voting, offering live assistance. The coalition has more than 100 partners at the national, state and local level and is providing voter protection services now through Election Day for all 50 states. For more information about Election Protection, the 1-866-OUR-VOTE Hotline and the Smartphone application, please visit: http://www.866ourvote.org.