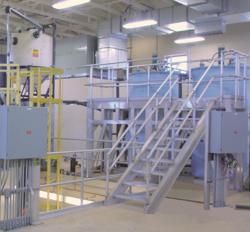 We are excited to be providing our customers with high quality water that has been treated in a sustainable and cost effective manner
Oneonta, Alabama (PRWEB) September 05, 2012
The City of Oneonta recently became Alabama's third municipality to install and commission a MIEX® Treatment system, the first to be followed by Pall membrane filters. The MIEX® system will reduce disinfection by-product (DBP) levels in the city's drinking water to allow the utility to meet federal and state drinking water quality requirements. The 3-MGD system was fully commissioned in August 2012 and provides dissolved organic carbon (DOC) removal prior to coagulation and microfiltration treatment of the utility's Little Warrior River raw water source.
Orica Watercare's MIEX® Technology was selected by the city, in conjunction with consultant In-Site Engineering, based on the results of a pilot scale evaluation conducted at the water treatment plant. Coupled with coagulation, MIEX® Treatment more than doubled the plant's DOC removal and resulted in DBP formation well below 40/30 levels (50% of the MCL), thereby ensuring consecutive system compliance. The MIEX® Process is also expected to beneficially impact downstream treatment and operating costs, reducing chlorine requirements by nearly one-third and reducing the frequency of membrane cleaning and maintenance.
All of these factors, along with the MIEX® System's low energy consumption and residuals production, contribute to the overall sustainability of the process, an important selection criterion for a progressive city, such as Oneonta, that once supplied city residents with free gas hot water heaters to reduce the community's energy usage. Mr. Rodney McCain, Manager of the Oneonta Utilities Board, states "Since commissioning of the MIEX® System earlier this month, we have seen a marked improvement in treated water quality. We are excited to be providing our customers with high quality water that has been treated in a sustainable and cost effective manner."
Widespread reliance on surface water sources and a statewide commitment to treatment plant optimization has resulted in numerous treatment plants in Alabama searching for a solution for DBP reduction. Due to its effectiveness and positive impacts on downstream treatment, an increasing number of utilities have selected the MIEX® Process for DBP Rule compliance. The City of Oneonta joins a growing Alabama installation base, expected to treat a total of nearly 40 MGD of flow by mid-2013.
About Orica Watercare Inc.
Orica Watercare Inc. is the manufacturer of MIEX® Systems and MIEX® Ion Exchange Resins for the reduction of Disinfection By-Products, Dissolved Organic Carbon, Color, Nitrate and Arsenic from water & wastewater streams. Orica Watercare Inc., headquartered in Denver, CO is a subsidiary of the Orica group of companies. The Orica group is the largest supplier of water treatment and industrial chemicals in Australia and New Zealand and is the world's largest supplier of commercial explosives.
Visit http://www.miexresin.com/ for more information.