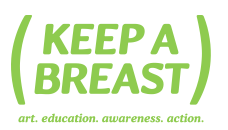 Carlsbad, CA (PRWEB) September 06, 2012
The Keep A Breast Foundation (KAB) is awarding up to $100,000 in grants to deserving organizations and individuals investigating breast cancer prevention, early detection and causes. KAB is particularly interested in environmental and lifestyle links to breast cancer, and seeks to support cutting-edge researchers who strive to make the world cleaner and healthier, with the ultimate goal of eradicating cancer.
"Through our grant program, Keep A Breast hopes to support organizations and individuals working to research and spread the word about the importance of living a healthy life and how that relates to breast cancer prevention," said Shaney jo Darden, Co-Founder and CEO of KAB. "Each person's actions and lifestyle choices greatly impact their health and their susceptibility to dangerous disease. We want to encourage people to seek out a toxin-free lifestyle and empower the leaders and organizations making a difference."
Eligible research projects may include new approaches to complementary and alternative care, innovations in green chemistry, as well as studies of common toxins and breast cancer rates. One example is one of last year's recipients, the Dr. Susan Love Research Foundation, whose mission is to eliminate breast cancer and improve the quality of women's health through innovative research, education and advocacy. The foundation has been using the KAB Grant to fund a Health of Women Study that will enroll participants from across the country and ask them to complete a series of questionnaires in an effort to better understand the types of people who develop breast cancer, and the environmental links to the initiation of breast cancer.
KAB has been awarded The Humane Charity Seal of Approval, and is committed to providing vital services and advancing research without the use of animals, and ask that only like-minded individuals and charities apply. The Keep a Breast Foundation funds progressive research undertaken at a cellular level, using human tissue or through other techniques that do not require animal testing.
Applications must be submitted by October 15, 2012.
For more information on how to apply, please visit http://www.keep-a-breast.org/grants.
About The Keep A Breast Foundation (KAB)
The Keep A Breast Foundation™ is the leading youth-based, global, nonprofit breast cancer organization. Our mission is to eradicate breast cancer for future generations. We provide support programs for young people impacted by cancer and educate people about prevention, early detection, and cancer-causing toxins in our everyday environment.
The Keep A Breast Foundation™ is headquartered in the United States as a 501 (c) (3) nonprofit. We are supported in fulfilling our mission by international partners Keep A Breast Canada, Keep A Breast Europe, and Keep A Breast Japan.