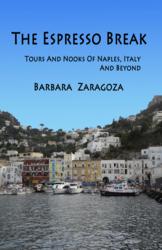 Anyone contemplating a trip to Naples would do well to keep this very useful, accessible book close at hand. – Kirkus Reviews
Chula Vista, CA (PRWEB) September 06, 2012
Naples (Napoli) Travel Information Guide website announces free book giveaways of The Espresso Break: Tours and Nooks of Naples, Italy and Beyond during the next two months. Author Barbara Zaragoza explains September and October are the best months to visit Naples as well as southern Italy because the weather is mild and there are fewer tourists.
To kick off this "best time to travel" season, the website Naples (Napoli) Travel Information Guide will host the giveaways that include two paperback copies and two ebooks. Each month, the author will ask a question about the region. Those who answer correctly will be part of a random drawing at the end of each month. One winner will receive a free paperback copy and another winner will receive a free ebook copy.
The travel book, which is written for independent travelers who prefer to explore sights on their own, includes nine self-guided tours of the region and thirty-five off-the-beaten track sights. Pompeii and Herculaneum have comprehensive What to See sections. Then, for those who love archeology, many less visited areas, including the Roman villas surrounding Pompeii and the Fields of Fire are added.
While Naples, Italy is considered one of the oldest cities in the Western World, the guidebook doesn't stop at the ancient sights. Zaragoza brings the city up from the ancient ruins to the medieval and modern eras through an odious women tour, an underground tour and even a jaunt through Neapolitan espresso. She also includes off-the-beaten-track nooks that extend from the ancient colosseum of Capua to modern-day graffiti locations.
In their July issue, Kirkus Reviews said about the book: "In this readable, entertaining information guide for tourists, Zaragoza takes readers from the heights of Mount Vesuvius to the ruins of Pompeii and beyond. Part Atlas, part history lesson, part epicurean review, this comprehensive handbook to Naples is without peer."
To enter the book giveaway contest, go to the website, read the question and then leave the answer through the contact page.
About The Author
Barbara Zaragoza lived in Naples, Italy for three years where she was a freelance writer. She wrote about the city for many media outlets and also had a regular blog. The Espresso Break: Tours and Nooks of Naples, Italy and Beyond is available in paperback and as an ebook through Amazon.com as well as many other on-line outlets.