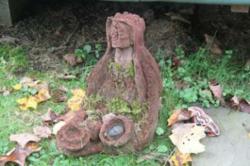 Life's not possible without the sun coming out every day... without the wind moving the clouds that carry the rain and the snow. That is where our life comes from.
--Annie Eagan, Weather Worker
Margaretville, NY (PRWEB) September 07, 2012
This annual celebratory event at the Blue Deer Center begins with a ceremony to honor the Weather Beings, involving brilliant flowers, white candles, and foods representative of the plentitude of the harvest. An altar of thanksgiving will be constructed in homage for the bounty of the season and the lives of the people. Participants will be invited to offer a "taste" to the gods of the foods they will share and the bounty of the the community altar will be distributed. Later in the evening, people gather around a sacred fire to engage in this timeless experience of connection with each other through the fire in the center as heart.
The Harvest Festival comes from an ancient lineage that extends from the Nahua people of Central Mexico. The ceremonial leaders have been initiated in this tradition, which honors our place as "humans" in the great web of life we so desperately need to remember. Ceremonial leader, Annie Eagan, says, "Weather work is a calling to a lineage, a calling to be in relationship with the weather beings, to honor them when they provide blessings to us in the form of rain or snow..." Her partner, Dan Sprinkles, adds that there is a family orientation to the weather working and the Harvest Festival. "It's a time when people bring their families," he says, "So, it's quite distinctive in that there's this big family-like consciousness. You could say that reflects how we see the weather beings, as there's a family aspect to all of that."
Like other shamanic or ancestral paths, weather work considers healing as a balancing and restoring of harmony to the world. Annie says, "We know how screwed up the weather is getting. And why is that? Part of that is because we're not in good relationship. The weather guy gets on TV and says 'We've got bad weather coming. Rain…' But part of what's going on here is we are out of proper relationship. And the Harvest Festival is a profound way of getting back into right relationship, of saying, "Yes, this is where my life comes from...'"
Everyone, including their families of all ages, are invited to attend. "Anyone who walks on this planet," says Annie, "Anyone who eats food." This is an opportunity for people from all walks of life to express gratitude in a focused way to the forces that provide sustenance.
Dan adds, "The Harvest Festivals are a way that we, in the Nahua path, bring our work to the community at large. And it provides a ceremonial space where healing can happen in a community setting, where it is conducive for people to reconnect with each other, and with the natural world, and with the Divine. You could say it's a reminder to people of our orientation in life: what's real, and what's important, and what's meaningful."
Blue Deer Center provides an important setting for teachings and practices that promote balanced relationship with the natural world. They particularly welcome ancestral approaches to healing, ritual, and retreat. The Center's origins are rooted in the Huichol shamanic tradition and living connection to the universal and sacred spirit of fire.