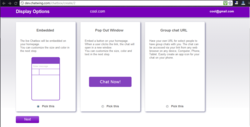 San Francisco, CA (PRWEB) September 05, 2012
Web communication is now considered a very important thing in the Internet today. For many online businesses, web communication is the life force—the prospect generator that can make or break any strategy. Realizing the importance of this keynote, the Chatwing Development Team has launched a free chat widget that can be installed to any website. This chat app can enhance the premise of web communication by a significant percentage, and can also raise the website's visibility in the long run.
Chatwing's free chat box can serve many online purposes. Niche bloggers can simply install the chat app in their blogs and start witty conversations with their visitors. Since Chatwing's platform is stable, there will be no interruptions and everyone can communicate effectively. At such rate, information can travel faster and many web surfers will get what they need. Friend searchers can rely on Chatwing's app to widen their social networks. In the Chatwing chatroom, visitors can log in with their Facebook or Twitter accounts, and they can then send invitations to each other. Lately, the Chatwing team has noticed that the chatroom is being used by several online marketers.
The latest version of the Chatwing chatbox is the by-product of several experiments done in a continuous basis. These platform experiments have paid off because the Chatwing app became more reliable in terms of speed, stability, installation process, accessibility, and customization options. Chatwing also offers a degree of conversation control to any admin. This allows any Chatwing admin to ban obscene visitors and delete messages in just one click. Admins can also add moderators to keep the Chatwing chatroom active as ever, and help entertain the visitors.
To further improve the performance of the Chatwing free chatbox, the development team is planning to add more features in the coming months. This will also deal with the projected influx rate of visitors from different web communities. The Chatwing Team is also keen enough to send updates in their official Facebook page.
About Chatwing.com
Chatwing.com specializes in the new field of website chat. Over years, the Chatwing team has introduced live chat widget for hundreds and thousands of blogs. The Chatwing application bridges people from many parts of the world, creating global synergy through the Internet. The shout box can be installed in just seconds, and it can be used for varying purposes such as leisure and Internet marketing. It also allows a user to customize the size, color, and name of the widget. Chatwing is 100% free for everyone.