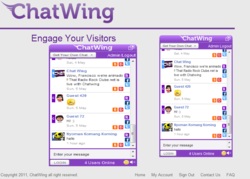 Chicago, IL (PRWEB) September 08, 2012
Twitter micro-bloggers can now upgrade their online communication activities with Chatwing's release of its enhanced free chatbox. The shoutbox provides ease in communicating with more Twitter and Facebook users because it can handle a thousand users without a decrease in efficiency level. Global connectivity can simply be achieved by installing Chatwing chat widget to one's blog or website. Engaging prospective clients and customers will be hassle-free for Twitter marketers and entrepreneurs through Chatwing chatroom.
Furthermore, Twitter users can initiate group chats by using the direct URL link option. This feature is suitable for a more focused and purposeful chats among users with the same interests, or for marketing researches.
Chatwing free chat box promotes ease of access to both end users—admins and chatters. With its easy installation mechanism, anyone can embed the free chat widget to his website or blog. Installation usually takes a few seconds with simple widget alteration. CSS customization is now available for a more advanced modification process; Chatwing also provides guidelines on its website. For online users who want to participate in any chat activity, no new registration is required—they can immediately log in with their existing Facebook or Twitter accounts. With this social media integration feature, social network growth is facilitated and ensured.
Chatwing dev team added the moderator feature empowering users through giving them additional control options. Aside from allowing admins to delete messages and ban users, admins can also assign a moderator to each chat box. To use this feature, admins only need to register the chosen moderator in Chatwing homepage. Selected moderators must have Chatwing accounts to qualify. Registered moderators can either delete messages or ban users, or do both depending on the authority level allowed by the admin.
Chatwing free chat box provides Twitter users with cute avatars they can use during interactive chats, and are encouraged to use cute emoticons for effective expression of emotions. This degree of chatroom usage has contributed a lot to Chatwing's current overall rank.
About Chatwing.com
Chatwing.com specializes in the new field of website chat. Over years, the Chatwing team has introduced live chat widget for hundreds and thousands of blogs. The Chatwing application bridges people from many parts of the world, creating global synergy through the Internet. The shout box can be installed in just seconds, and it can be used for varying purposes such as leisure and Internet marketing. It also allows a user to customize the size, color, and name of the widget. Chatwing is 100% free for everyone.